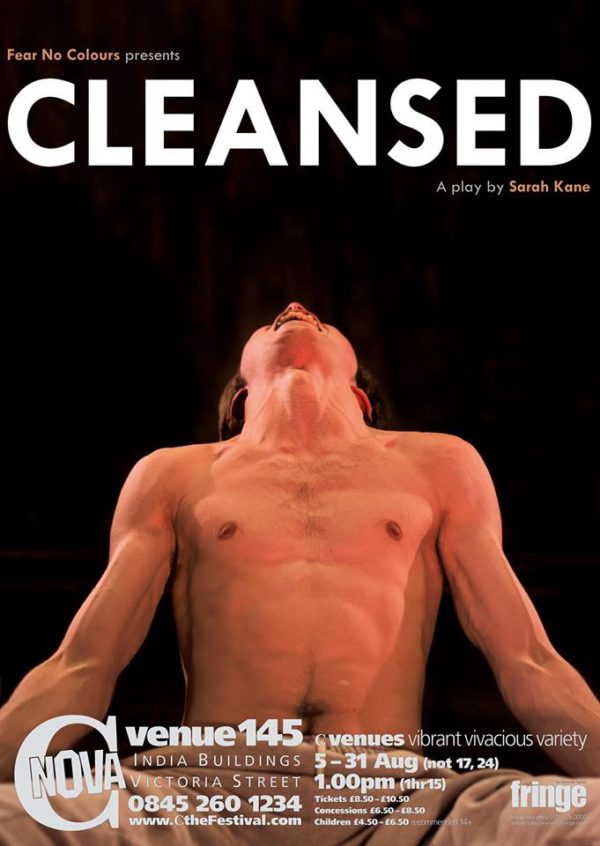 Young theatre group Fear No Colours, composed entirely of current student and recent graduates at The University of Glasgow, bring Sarah Kane's 'Cleansed' to C Nova 5th-31st August (not 17th or 24th).
'Cleansed' is the debut piece for the new company, who have already performed the show at the Gilmorehill Theatre in Glasgow and the Neues Schauspiel in Leipzig, Germany.
The play itself is an exploration of love, loss, pain, and violence. Seven lovers find themselves trapped in an abandoned university and torture camp, where they endure impossible pain and horror to stay in love. Grace arrives to retrieve her dead brother's belongings but senses his presence and decides to bring him back to life. Young and innocent Robin falls in love with Grace, Rod and Carl repeatedly endure impossible torture to stay together and Tinker desperately tries to connect with the nameless woman in the basement. Outside an army of rats gather for the feast of a lifetime.
Through dance, movement and a strong focus on the body, Fear No Colours delivers a visceral and emotional journey through Sarah Kane's impossible play to the Edinburgh Festival Fringe. Welcome to our sensible hell.
'I'd never been to such an intimate, passionate and raw theatre performance before… sit on the front row, if you can, to get the full experience' Leipzig Glocal
LISTINGS INFORMATION
Venue: C nova, venue 145, Edinburgh Festival Fringe Dates: 5-31 Aug (not 17, 24)
Time: 13:00(1h15)
Ticket prices: £8.50-£10.50 / concessions £6.50-£8.50 / children £4.50-£6.50
C venues box office: 0845 260 1234 / http://www.CtheFestival.com
Fringe box office: 0131 226 0000 / http://www.edfringe.com
Submitted by Fear No Colours Theatre