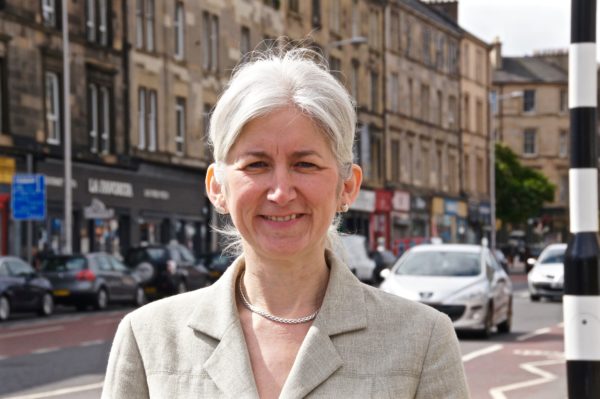 Marion Donaldson is the Scottish Labour candidate for the Leith Walk Ward at the upcoming by-election in September. A former pharmacist she is now a volunteer at the local food bank and is a member of the Leith Central Community Council.
She explained to us how she had been drawn into politics quite gradually.
The Edinburgh Reporter NEWS from Phyllis Stephen on Vimeo.
The prospective councillor explained to us what she would do if she is elected to the council in September.
"I see myself very much as a local voice. I think it's important that I share the views of the community.
" As a member of the community council I am well aware of some local issues. The most important things are fly-tipping and litter, crime, the repair of Leith Walk and the £9million Leith Programme. We have had all the inconvenience of the tram works but none of the benefits yet, so the council must listen to what the community is asking for.
"I have made five promises of what I intend doing. I want to be open and available to the community by holding local surgeries.
"In this area crime levels are up and I would like to strengthen the relationship between local people and the police. I think that cleaning should be prioritised in the area. Fly-tipping and littering have to be dealt with.
"I would also work on making Leith Walk more pedestrian friendly, especially improving the new pedestrian crossings here. We should keep on encouraging recycling in the area. I am aware that the council has had success in this area but we need to keep working in this area."
The by-election has been called after two of the current councillors, Councillor Deidre Brock (SNP) and Councillor Maggie Chapman (Greens) announced they are resigning. Brock was recently elected to Westminster as the new MP for Edinburgh North and Leith replacing the long-serving Labour MP Mark Lazarowicz. Chapman has her sights set on becoming a Green MSP in next year's Holyrood elections.
Voting will take place on 10 September 2015 from 7:00am till 10:00pm. In 2012 the turnout in this ward was only 36.2% . The four councillors elected were Angela Blacklock (Scottish Labour), Deidre Brock (SNP) Maggie Chapman (Greens) and Nick Gardner (Scottish Labour)