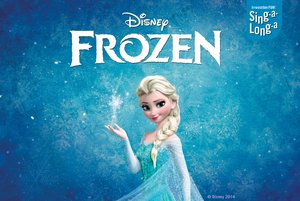 Get tickets to see Sing-a-long-a-Frozen at Edinburgh Playhouse for £13 with this special Edinburgh Reporter offer!
A full screening of Disney's FROZEN with lyrics on screen to help you sing along during the film. Introduced by a live host who will guide you through this interactive screening by showing you how to use your free prop bag, warm up your singing voices and teach you some dance moves with the help of the Sing-a-longa Princesses.  Watch as the film is brought to life and help you experience this movie in a whole new light.
It's the most popular Disney comedy-adventure to hit the big screen and, with the fairydust of Singalonga added, you are guaranteed a great time. Come on an epic journey to find Anna's sister Elsa, the Snow Queen and put an end to her icy spell.
So get your little ones dressed up as their favourite character and come and see Sing-a-Long-a FROZEN where YOU the audience are the stars. Sooooo 'do you wanna build a snowman…..?'
Age recommendation 5+ © Disney 2014
Running time: 2 hours 40 minutes (including 20 minute interval).
To book for Sing-a-long-a-Frozen call 0844 871 3014 and quote 'ELSA OFFER' or book online.
9 July 2015, Thu 11:00AM & 3:00PM
The Edinburgh Playhouse, Edinburgh
0844 871 3014 or Book online at 
@Singalonga
f: singalongafrozen
Terms and conditions apply. Offer is valid on performances on the 9th July only . Tickets are normally £15. Cannot be combined with any other discount or offer. Bookings fees may apply. Subject to availability.