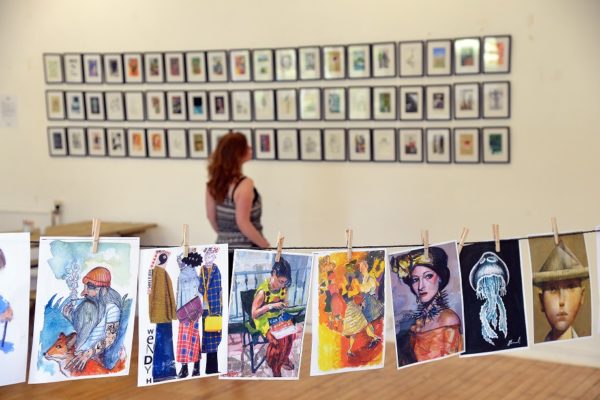 Charity exhibition and auction raises funds to support youth homelessness
The Rock Trust is holding its fifth postcard art exhibition and auction until 2 July at Summerhall to raise money and awareness for youth homelessness in Edinburgh and the Lothians'.
The fundraising event has received over 170 mini masterpieces, donated by renowned local, national and international artists, including Kate Downie, Al Heighton, Tony Husband, Mary Archibald, Alasdair Gray, David Forster, Fee Dickson, Steven Mangan and Raymond Osborn.
This year the artwork will be displayed at one of Edinburgh's top arts centres, Summerhall, for one month only. During the exhibition, The Rock Trust invites individuals to browse and bid for their favourite pieces by filling out a bidding slip at the venue or online.
Katriona Harding, The Rock Trust's fundraising and events coordinator, said: "We are really excited about this year's Postcard Art Exhibition and Auction. The quality of donations we have received, from so many prominent artists, and the buzz around the event, makes me confident that we can reach our £20,000 target.
"This year we're highlighting the high value pieces with a gold star, which will be of huge interest to collectors and art lovers.
"This is one of The Rock Trust's biggest fundraising events of the year and every penny goes towards helping some of the most vulnerable and disadvantaged young people in our community. We are especially grateful to Summerhall for donating the exhibition space for the duration of the event."
Once the exhibition is closed on the 2 July, the Postcard Art will be sold to the highest bidder and all the proceeds will go to Edinburgh and the Lothians' most vulnerable 16-25 year olds.