The opening scene of Neil Broadfoot's debut novel Falling Fast came to him fully formed. He was sitting doing his (then) day job at The Scotsman one day 'thinking uncharitable thoughts' when he looked up at the Scott Monument and 'the whole thing hit me'. Which is more or less what happens to a luckless bystander in that first scene. One wonders, therefore, just how uncharitable Neil's thoughts were when he started his new thriller The Storm – because if you thought Chapter One of Falling Fast was graphic…..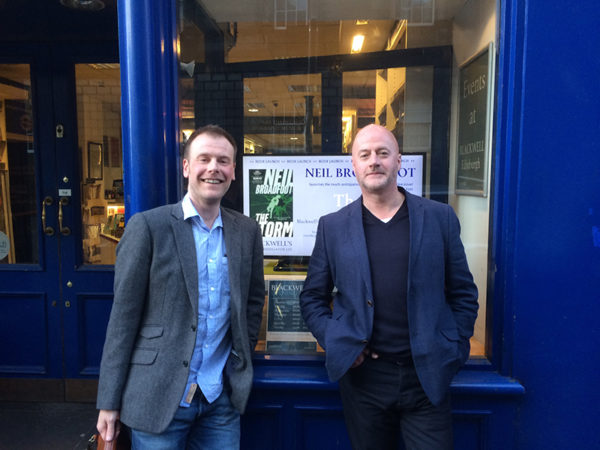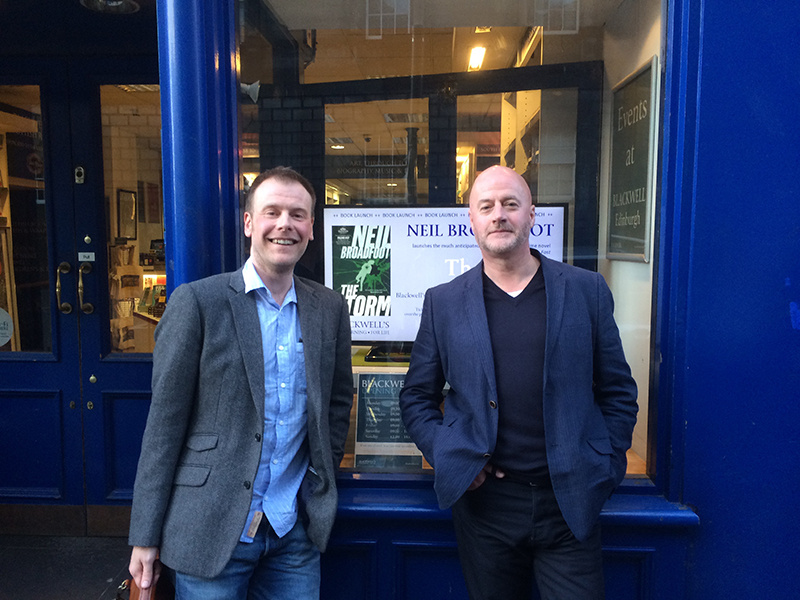 Drugs, betrayal, corruption, death…The Storm's got them all – but at Blackwell's last week fellow crime writer (and fellow ex-journalist) Craig Robertson wanted to know just one thing.  Why isn't the book set 'where all good crime novels should be set' – in Glasgow?
The answer is of course that, like most authors, Neil writes about what he knows. Edinburgh, he says, is by its nature shades of grey – he's not interested in the tourist board version. Someone else has done Edinburgh crime quite well already…is Neil worried about that? No – 'you tell it in your own voice'. Growing up he did read and hugely admire Ian Rankin; other influences were Conan Doyle, Iain Banks and William McIlvanney, a Glasgow writer if ever there was one. His favourite author remains Stephen King; Misery first attracted him with its 'good scary cover'; it kept him hooked with its pace, something he and Craig both know a lot about. Publishers love journalists because they know they need to grab the reader from the start. No waffly descriptions and character development in their books; the story does the work, the characters grow from it, and the scenes are set by small details. Journalism 'takes the ego out of the editing process', or as Craig the Glaswegian puts it 'We're used to being told 'its cr-p; do it again'.'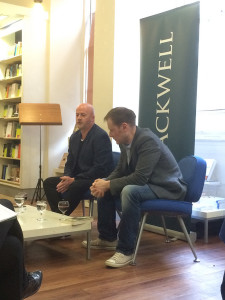 No surprises then that both books operate in the world of newspapers; in The Storm though, it's not an outside story that reporter Doug McGregor is chasing. Jonathan Greig, editor and chief bully boy at the Tribune, is shot dead in front of his staff. Not shot in a nice clean James Bond fire-the-gun-and-pour-the Martini sort of way either; it's all a tad messy:
'Blood and viscera erupted onto the table in front of him with a horrible wet slap and glistened there'.
As a witness, Doug is banned from investigating; his old mentor Harvey Robertson invites him to come and stay at his B & B on Skye, and off Doug roars (there's quite a lot of 'flooring the accelerator' in this book…). No, that isn't the end of the story…Doug can't leave it alone of course, and through various contacts, including his old friend DS Susie Drummond, he's soon digging around, trying to find out who loathed Grieg even more than his staff did. So far so not-too-scary, you may say….not that many of us are going to be sitting in front of a plate glass window waiting for a sniper to pull the trigger…but have you ever been up the News Steps from Market Street to the Royal Mile? If like me you always find that short cut a little bit creepy, you'll find it a whole lot more so after Chapter 14.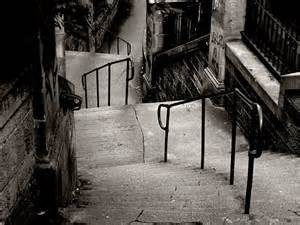 Doug and Susie are not, according to their creator, based on real people – but Neil admits there's a little bit of himself in Doug, 'reality bleeds in and you filter it'. In Falling Fast Doug and Susie's relationship is strictly one of friendship but in The Storm it becomes more ambiguous – people had asked Neil so often whether the two would become an item that he decided not only to keep the readers wondering, but also to introduce a third dimension, Rebecca Summers, media-person for the new Police Scotland. He's quite good at sourcing multi-purpose girlfriends is our Doug. Primarily though, The Storm is a thriller, not a love story – and if there is a love story to be told, it's not Doug's but someone else's, someone who lives on an island a long way from Edinburgh. Why did Neil choose Skye as the second major location in the book? Guess what? It's what he knows. He and his wife Fiona were married there, and for reasons best left unexplored, he found himself wondering what it would be like to drive over the Skye Bridge hungover. Wondering for a friend, I'm sure. So that's what Doug does (and luckily for him and for the plot, there's no officer with a breathalyser waiting at the other side).
One thing that Neil hasn't used his experience of (so far) is babies. He and Fiona had another baby girl during the writing of The Storm – 'This last year has been nappy-soaked'. He wrote when everyone was asleep (which would have been never when I had under-5s…) and when Fiona, also a journalist, took the baby. The book, he says, would never have seen the light of day without Fiona – she not only gave him time to write but also told him what was wrong with it. Falling Fast was shortlisted for the Dundee International Book Prize and the Deanston Scottish Crime Book of the Year, and despite being delighted by the good reviews, Neil then felt pressurised to produce something even better. Much fiddling with the manuscript of The Storm ensued, and it was only when Fiona pointed out that he was being 'too clever' that he saw how to cut out the baggage and make the book work.
Neil hadn't planned a series when he started Falling Fast, but before he finished it he'd realised the characters could carry on (Craig: 'Yes, it's a good idea not to kill them all off…like I did.) He's got special plans for Susie's boss DI Burns, and says book three – which is already three-quarters written – will also see some high-level political casualties. Would the books translate to television? Neil's unsure – he doesn't have any actor in mind to play Doug, but he knows who he's not. Neil's getting used to the publicity surrounding a successful author; being on the other side of an interview was 'weird at first' and he's still too nervous to read his own work. Some authors are very good at reading from their books; to hear William McIlvanney read is to be transported to every seedy bar in Glasgow, and that Ian Rankin guy's pretty good at it too.. At Falling Fast's launch last year Bob McDevitt, Neil's agent, gave a sterling performance, but Bob's not here tonight and Craig's not offering, so no reading for us. And maybe in some ways that's a good thing; I already have a clear picture of Doug in my head – what if he doesn't sound like I think he should?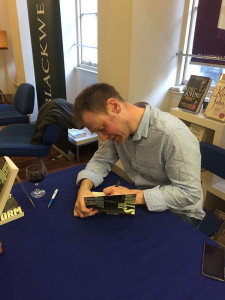 A confident debut may be one thing, but being able to deliver on book two quite another. With The Storm Neil Broadfoot has established himself as a professional author and a member of the growing house of Tartan Noir. The Storm is a great read and I recommend it. Or to quote Craig, 'I hate to say it but it's actually very good'. And that's about as much as you'll get from a Glaswegian.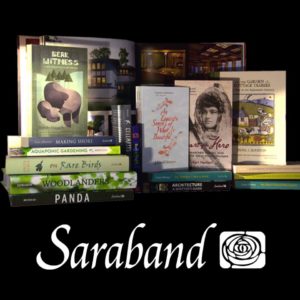 The Storm by Neil Broadfoot is published by Contraband, an imprint of Saraband Books.