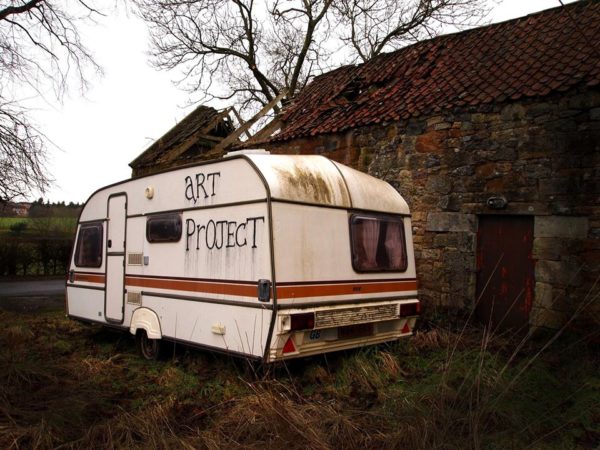 A much loved, leaky old caravan has been transformed into an intriguing art installation for this year's Hidden Door Festival, thanks to inspiration from the most popular Scottish book of all time – Sunset Song.*
The 1932 novel by Scottish writer Lewis Grassic Gibbon, Sunset Song, is widely regarded as one of the most important Scottish novels of the 20th century. One of its central themes is the advance of modernisation and its devastating effects on traditional farming and crofting communities in Scotland. The caravan installation, 'Homing', is the concept of three Edinburgh creatives, Eve Hynd, Celie Byrne and Laura McEwan.
Their initial conversations sparked a desire to collaborate on a larger project which extend-ed their own craft and fine art practices. 'Homing' symbolises the need to connect with na-ture and the landscape, as evoked by the character of Chris Guthrie in the novel. When faced with the option of freedom from hardship, Chris chose to stay connected to the land.
Laura said: "Many of these traditional Scottish communities were subject to land clear-ances which decimated entire families, their sense of belonging, livelihoods and home. Having left Scotland as a child, the idea of a 'homing instinct' has been a strong theme throughout my life. It is such a privilege to collaborate on this project which has felt a bit like a personal love song to Scotland."
The caravan, which was one of 60 impressive art contributions selected for the festival, has been stripped back, restructured and rebuilt. Celie rewired and rebuilt the interior struc-ture, teaching herself complex joinery and electrics and creatively solving the major chal-lenges of restructuring the interior space.
Eve saw the project as an extension of her design practice in textiles and upholstery. She says: "We all have experience in various aspects of design and fine art, so we are using the caravan as a blank canvas to explore creative possibilities within its interior structure. Us-ing furniture, unique textiles, wallpaper and ceramics, each piece has been designed spe-cifically around our theme of 'Homing'. Personally, I was blown away by the evocative landscape descriptions in the story and have used that as the basis for my work on this project."
Celie added: "We wanted to create an engaging space for the festival, but also had in mind that others would be able to use the space in interactive and performative ways. We're hoping that the caravan will continually reinvent itself after Hidden Door and we are ex-cited about its future possibilities."
Edinburgh-based design studio SPLINTR, which specialises in bespoke fabrication, was brought in to fulfil the design brief for the stage doors.
Steve Swanton, from SPLINTR, says: "Being involved in the project gave us the opportunity to collaborate with three creatives whom we greatly admire. The concept is an incredibly interesting one which we were delighted to be able to help realise. We are currently working on the design and build of the main bar area at Hidden Door, and are very much looking forward to seeing all the hard work and creative endeavours come together in one space."
The caravan has been given a prime spot in 'The Secret Courtyard' of this year's Hidden Door, where it will be on permanent exhibit for the duration of the festival at the King's Stable's Road venue from Friday 22nd – Saturday 30th May. Free 12 – 6pm, ticketed 6pm – 11.30pm. Keep up to date on the Hidden Door Facebook and Twitter pages.
For further information visit: http://www.sunsetsongproject.wordpress.com.
Submitted by Samantha McKay