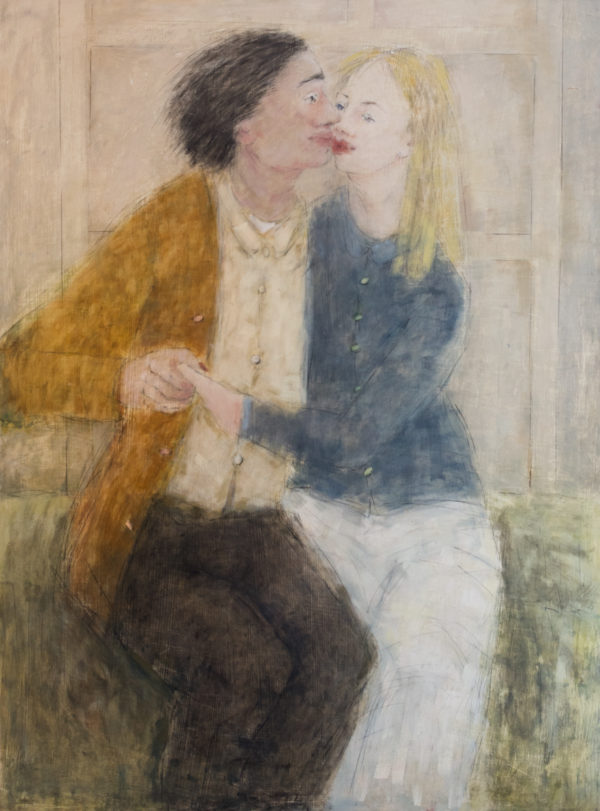 In a new exhibition at The Sutton Gallery on Dundas Street, celebrated artist Joyce Gunn Cairns presents a wide selection of her practice over the past year, including expressive figurative works, deft animal studies, portraits and some examples of her exceptional printmaking.
At the core of the exhibition is a fine nude painting 'Ahimsa', 2015, 92 x 122.5cm, oil on board. This work, which draws its title from the Sanskrit concept of kindness and the avoidance of harming others, typifies the generosity and sensitivity of Gunn Cairns' practice: an owl and a robin perch calmly on the reclined body of a woman who has achieved a level of serenity.
Not only does the painting immediately suggest a sense of compassion and self-control through the imagery, this concept is writ into the very marks used to compose the piece, Gunn Cairns' now-familiar method of drawing with paint in layers, at times partially removed, so that we are literally invited to see beyond the surface of her subjects, as she does.
Gunn Cairns trained in Drawing and Painting at Edinburgh College of Art, having previously completed a degree in German and Comparative Religion at Aberdeen University. She has become one of Scotland's most cherished artists, with nine works in the permanent collection of the Scottish National Portrait Gallery, five works in the permanent collection of the City Art Centre, and works in other major collections including Balliol College, Oxford and Jesus College, Cambridge.
Drawing on her deep sensitivity and appreciation of literature, Gunn Cairns has drawn some of some of Scotland's most eminent cultural figures, across music, theatre, art and literature. However, she is no less attentive to the less celebrated aspects of life. From an otter to a dormouse, whatever the subject, Gunn Cairns draws them with the same delicacy of perception and appreciation. There are also a number of works in which her vision is turned inwards in self portrait. However, in a wider sense, Gunn Cairns' work could be said to be constantly examining what it means to be a human being and how we negotiate our relationships with our selves and others.
Another of the highlights of the exhibition is a painting of the celebrated South African writer and Nobel laureate Nadine Gordimer, who passed away in 2014. A committed writer whose work was both politically-engaged and powerfully humane, she also promoted and supported the anti-apartheid movement as well as the cause of HIV/AIDS sufferers. It's easy to see why Gunn Cairns should be so attracted to painting Gordimer, an artist who in her activism and her writing embodies the spirit of "Ahimsa".
Gunn Cairns has been well reviewed across the board, including by Duncan MacMillan, who commented: "Joyce Gunn Cairns' remarkable paintings … demonstrate how many different kinds of visual truths there are ;….. in these graphic and unflinching images, she not only manages that sense of reaching out to touch; she conveys how, from inwards, we feel outward; what it is like to be in one's own skin…" Duncan MacMillan, The Scotsman, Feb 2011
Colin Herd and Reuben Sutton of The Sutton Gallery have commented: "It is a great thrill for us to be showing the work of Joyce Gunn Cairns, which as a body of work is among the most searching and intelligent of any artist currently working in Scotland. As collectors and admirers of Joyce's work for a long time it is a great privilege to be able to exhibit a significant selection of her work in The Sutton Gallery."
She was awarded MBE for services to the arts in the June 2004 Queen's Honours List. A portrait of Edwin Morgan by Gunn Cairns is concurrently displayed in the Scottish National Portrait Gallery.
Submitted by Colin Herd