Ba-Ba's show how it's done at Goldenacre.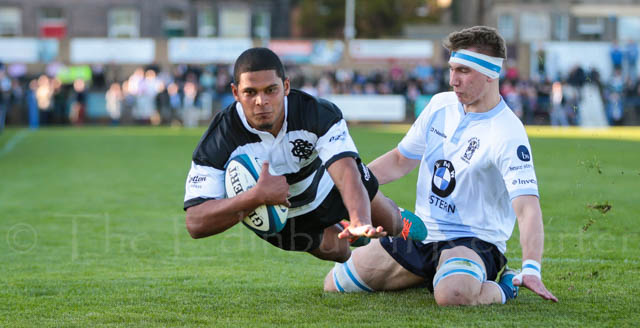 To celebrate 125 years as a club, Heriots invited the Barbarians along to help them and their supporters to mark the occasion.
Captain on the night for the Premiership side was Stewart Mustard, a Heriots' stalwart, who has played – literally as 'Man and Boy' – solely for the Goldenacre outfit from the age of 12 and it was a very proud night for his family to see him run out as captain against the World famous outfit.
Once the whistle blew, however, the gloves were off and the visitors were 14-0 up in less than 10 minutes from two Chrysander Botha tries.
It was Heriots' turn next as Max Learmonth ran in an interception from halfway, which Graham Wilson converted, to make it a 14-7 game.
Botha completed his hat-trick a couple of minutes later with a solo effort down the wing, before another intercept try from Heriots kept them alive at 19-12, Colin Goudie the scorer.
Heriots piled on the pressure for a while, but four tries – including Botha's fourth – in the last 10 minutes of the half – and one from Jamie Syme for Heriots left the half time score at 45-19.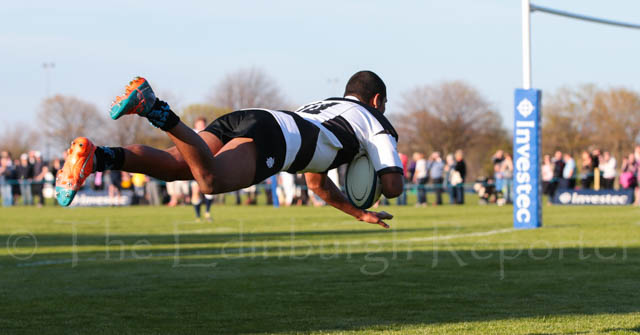 The second half was much the same, with the Ba-Ba's turning on the style. Two minutes in and lock Scott McLeod ran in the first, but Goudie added to Heriots tally with a solo kick-and-chase to bring the score line to 52-26.
Just before the 20 minute mark, the visitors had added another two tries with the first from Gloucester's Aled Thomas, followed up by a second from Joshua Adams (64-24).
Heriots then came back with one of their own Chris Mulligan battered his way through for the touchdown, captain – and prop! – Mustard adding the extras for 64-31.
That was the last that the home side saw of the opposition area however as superior fitness chimed in and, although they put up a stiff resistance, Heriots had no answer to the final four tries to round off a superb exhibition – from both sides, it should be said – and a final score of 97-31 to the Barbarians.