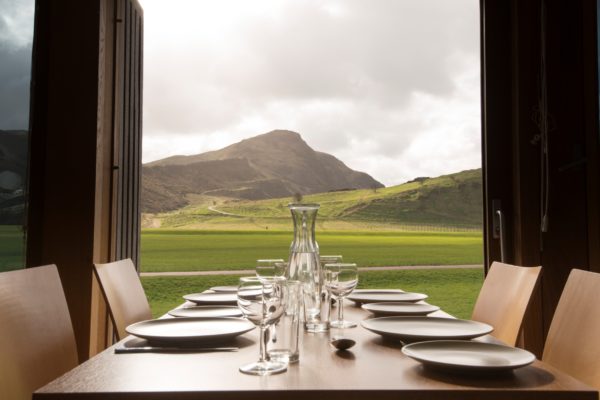 Looking for somewhere new to eat? This May there will be a pop up restaurant in Holyrood Park over one weekend 8-9 May 2015 to allow you to chill out after the General Election.
The Holyrood Kitchen pop-up restaurant will be serving the very best in locally sourced ingredients from independent suppliers and producers from throughout Scotland.
Celebrating Scotland's 'Year of Food and Drink' the partnership between Historic Scotland and the Edinburgh School of Food and Wine – Scotland's oldest independent cookery school – will allow some of the country's best up-and-coming trainee chefs to create dishes against the iconic backdrop of Arthur's Seat and Holyrood Palace.
Set within the Park, the Holyrood Education Centre will be transformed into an exclusive eatery, with only 44 covers available at each sitting, offering guests the on-trend restaurant 'communal table' experience.
Diners will be able to sample a three course tasting menu, expertly prepared by trainee chefs and recent graduates from the cookery school, complete with wine, paired to compliment the food, and hand-crafted petit fours. Designed to showcase the variety and quality of Scottish produce, the menu makes the most of ingredients sourced from Edinburgh and further afield.
Each course will be introduced by Chris Stewart, Head Tutor at the Edinburgh School of Food and Wine, with diners having the opportunity to hear more about the ingredients from some of the suppliers and producers themselves.
Commenting on the Holyrood Kitchen, Elizabeth Strain, Catering Contracts Manager at Historic Scotland, said: "The Holyrood Kitchen will see the pairing of some of Scotland's talented aspiring chefs with the iconic surroundings of Holyrood Park in a unique culinary celebration, showcasing Scotland's vast larder of quality produce.
"This exciting collaboration is made doubly special in the 'Year of Food and Drink', 2015, and offers foodies a new dining experience in the heart of the Scottish capital whilst having the opportunity to hear more about the food they are eating from some of the suppliers, producers and chefs who helped create the dishes."
Throughout the dining experience, guests will hear from Scottish producers ranging from Great Glen, a family run business based in the Highlands, specialising in wild Scottish venison charcuterie to Craigie's Farm and Deli, located just outside of Edinburgh. Suppliers from Northwood wild boar, which rear boars in woodland in East Lothian, Plan Bee, The Little Herb Farm and Hello Chocolate will also be on hand to answer any questions about their produce.
Chris Stewart, Head Tutor at the Edinburgh School of Food and Wine, added: "We're pleased to be able to partner with Historic Scotland on this pop-up venture in a year that champions Scotland and it's produce.
"Working closely with our local producers and suppliers, our students have created a menu that focuses on the provenance of ingredients, meaning that the Holyrood Kitchen will be able to provide diners with a taste of the great produce that is on their doorstep."
The Holyrood Kitchen pop-up restaurant, offering a 'communal table' dining experience, will be taking reservations for dinner on Friday 8th May at 7pm with lunch and dinner sittings available at 12.30pm and 7pm on Saturday 9th May. Tickets are available for both Friday 8th and Saturday 9th May.
Tickets are priced at £45 for Historic Scotland members and £50 for non-members. Maximum capacity for the Holyrood Kitchen is 44 covers, due to the expected popularity of this event, booking is essential. To reserve tickets please call 0131 333 5001 or visit www.historic-scotland.gov.uk/events