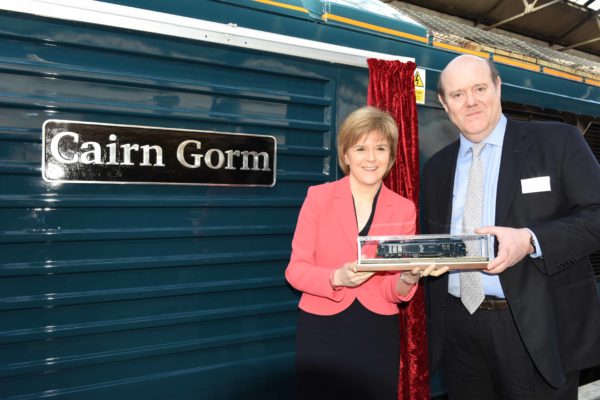 First Minister Nicola Sturgeon today marked the launch of the new Caledonian Sleeper train franchise, which will transform the cross-border overnight service into a world-class rail hospitality experience.
Incoming operator Serco unveiled the new look of the service in Inverness, the home of the new Caledonian Sleeper franchise, at the city's new Guest Service Centre.
Ms Sturgeon met with the award-winning Scottish design team who are creating the luxurious new interiors and uniforms for the passenger lounges and the new trains, and the staff who will turn the Caledonian Sleeper from a rail journey into a hotel on wheels.
She was also shown the service's new White Stag branding which is set to become synonymous with a tourist rail experience to rival the best in the world.
Ms Sturgeon said:
"When the Scottish Government set the specification for the refranchising of the Caledonian Sleeper service, we were clear that it had to become so much more than a commuter rail trip for those travelling between Scotland and London.
"We knew that the routes through Scotland already offered a spectacular backdrop, but we wanted to see the journey become a destination in itself and take a larger tourism role in promoting Scotland.
"Serco's plans promise to bring all of this, as well as provide benefits for the small and medium-sized Scottish businesses up and down the country who will be involved in supplying the new service. Their commitment to qualification-level training for staff and investment in the service for the next 15 years is also to be welcomed.
"A £150 million fleet of new Sleeper trains arrive in 2018, and passengers can begin to enjoy the new catering offering that will showcase the best of Scottish food and drink as soon as the new franchisee takes over the service from next week."
The new Guest Service Centre for Caledonian Sleeper passengers, which was also opened by the First Minister at Inverness train station, created 20 quality new jobs for the city as well as safeguarding others.
The lounge facility features soft furnishings and shower facilities by Edinburgh-based Ian Smith Designs, a Scottish designer in the UK top 100 listed design companies, to welcome passengers on arrival. Staff on the new service will wear uniforms by award-winning Glasgow Fashion designer Alan Moore
The contracts for the build of the 75 new state-of-the-art carriages, making up four new trains, were signed with manufacturer CAF last month and the design process is underway. They will offer four innovative ways to travel in comfort on the Sleeper service – Cradle Seats, Pod Flatbeds, Berths and En-Suite Berths, and will include a Brasserie style Club Car for dining.
Rupert Soames, Serco Group Chief Executive Officer, said:
"Today marks a new start for the Sleeper service, which we believe has huge potential.  As a regular user of the service, I know that for business and pleasure it is both an efficient and an enjoyable way of travelling between London and Scotland, allowing you to have whole day's extra work or play on each return visit."
"Serco is well on the way to transforming the Sleeper into a superb service using our expertise of delivering high quality transport services around the world.  From the 31 March our guests will see the service get better and better, with a new booking website, branding, uniforms and a menu that showcases the best in Scottish food and drink."