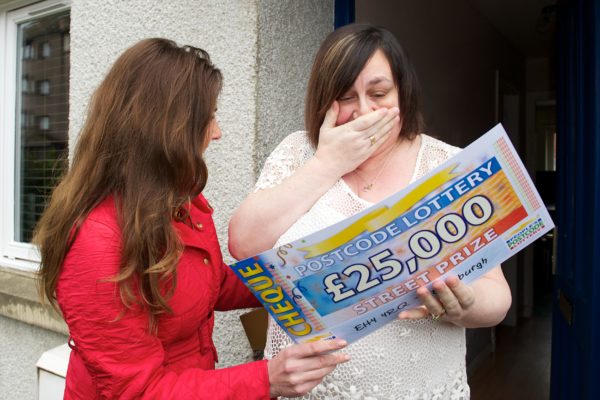 One player in Edinburgh is thrilled this week after winning £25,000 when her postcode, EH4 4RQ, was drawn in the Saturday Street Prize.
Colleen Hildersley, 53, could hardly believe it when she was presented her cheque by People's Postcode Lottery ambassador, Judie McCourt. "I can't believe I've won so much," she said. "When I won £10 before my husband joked that a bigger win was coming but we never really believed it."
Although Colleen is still in shock, she has a few ideas of what to spend her winnings on. "My two sons are keen to move so I'd like to help them with that and I'd love to do some redecorating."
Mum-of-two Colleen, who signed up to play in July last year, has already told some family members about her win. "I told my two sisters and they're gutted they don't play as they live in the same postcode," she said. "They've both signed up now."
Colleen, who works for Sky, was joined by her husband Charlie when she was presented with her cheque. "Charlie was working nearby so he was able to come and calm me down after me win," she said. "We have been to New York a couple of times but we would love to go to Vegas. That might be on the cards now."
People's Postcode Lottery presenter, Judie McCourt said, "I loved being in Edinburgh and presenting the lovely Colleen with her cheque. It sounds like she has some nice plans in mind so I hope she has fun spending her winnings."
As a charity lottery, players have raised over £63 million for charities and good causes across Great Britain and internationally.
One charity local to Collette is Scottish Youth Parliament that was awarded £10,000 from players for their Extra Voice project.
The Scottish Youth Parliament, based in Edinburgh, represents Scotland's young people. Their democratically elected members are young people aged 14-25 years who listen to and recognise the issues that are most important to young people, ensuring that their voices are heard by decision makers. The Scottish Youth Parliament is a registered charity and aims to enhance and build citizenship. They encourage all of Scotland s young people to play their part in achieving their vision and provide a national platform for their participation in democracy.
For your chance to be a lucky winner like Colleen, sign up at www.postcodelottery.co.uk today and support great charities and causes. You can also watch the winners receive their cheques by going to our website and clicking on draw results.
For more information please contact Jenna Maxwell on jenna.maxwell@postcodelottery.co.uk or 0131 555 8991.