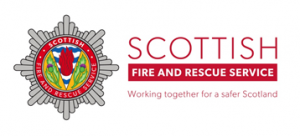 Chief Officer Alasdair Hay has issued a statement apologising unreservedly on behalf of the Scottish Fire and Rescue  Service for any failing which contributed to the tragic death of Edinburgh Firefighter Ewan Williamson who died whilst attending a fire within the Balmoral Bar in Dalry Road on 12 July 2009.
The statement reads: "Our thoughts, first and foremost, are with the family, friends and colleagues of Ewan Williamson. I appreciate it has been a very difficult time for everyone involved whilst the investigation reached its conclusion in relation to the incident which resulted in his tragic death.
" Our Firefighters are committed to providing a first class emergency fire and rescue service to the people of Scotland and working in dangerous and dynamically hazardous environments is an inherent part of their job as they deliver that commitment to serve their communities. Tragically the dangers faced by our Firefighters on that day resulted in the loss of Ewan's life, and I apologise unreservedly on behalf of the Service for any failing which contributed to Ewan's tragic loss.
"Ewan was a very popular and respected Firefighter who died a hero in the line of duty at an incident where 16 people were rescued. His professionalism and sacrifice will always be remembered.
"I will now take time to consider the judge's comments and ensure that the Scottish Fire and Rescue Service, through its safer firefighter programme, is addressing the issues raised throughout this investigation and that all lessons are learned to improve the safety of our Firefighters."