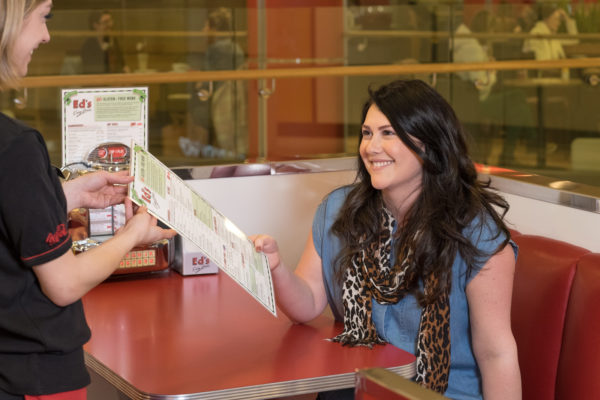 An American style diner which has just recently arrived in Edinburgh has launched a GF accredited gluten-free menu – meaning people with coeliac disease can now get their Fifties diner fix at all 35 Ed's Easy Diners across the UK.
Thrilled to be the first burger chain to be accredited by Coeliac UK, the national charity for people with coeliac disease, the new menu offers a mega 85% of the dishes from the non-GF menu. Now Ed's fans needn't miss out, as they'll be one of the first ever burger chains to serve gluten-free buns alongside fries, as well as GF hot-dogs!
Ed's have worked hard to keep in all the 'greats'. With fifteen burgers to ponder over including the Smoky Joe's with Cheddar cheese, griddled onions and smoky BBQ sauce; Chickpea & Quinoa or Chicken 'N' Bacon BLT, plus five hot dogs, you wont be spoilt for choice.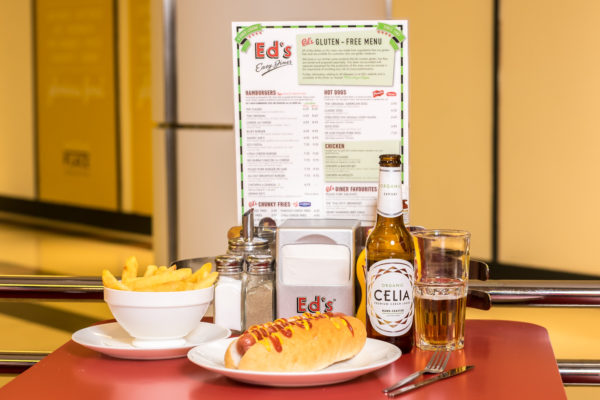 Start the day with a selection of seven breakfast dishes such as The "Full Ed's" and The Mexican Breakfast Burger; tuck into 'Diner Favourites' like Ed's Heart-Warming Beef Chilli; or three decadent desserts including 'Brownie Points' – a chocolate brownie served with vanilla ice cream and Hershey's chocolate sauce.    
There may not be malt, but supporters of Ed's famous milkshakes will be thrilled to hear that there's plenty of shakes to choose from such as Mint Chocolate, Butterscotch and Banana – all of which can be made 'skinny' with Ed's fat-free frozen yoghurt. There's also the usual roll call of retro ice cream floats, hot drinks, juice and sodas.
Sarah Sleet, Chief Executive of Coeliac UK comments: "We know eating out safely is a top concern for people with coeliac disease, who must follow a strict gluten-free diet for life. We are working with the catering industry to help them deliver good quality menu choices for people with coeliac disease and we are delighted Ed's Easy Diner is recognising the importance of catering for this market by gaining accreditation from Coeliac UK and offering a separate gluten-free menu."
Eds Easy Diner BBQ & Grill – Fort Kinnaird
Edinburgh FortLawhouse Toll
Newcraighall
Edinburgh EH15 3RH
Tel. 01316573004
Email fortkinnaird.manager@edseasydiner.com