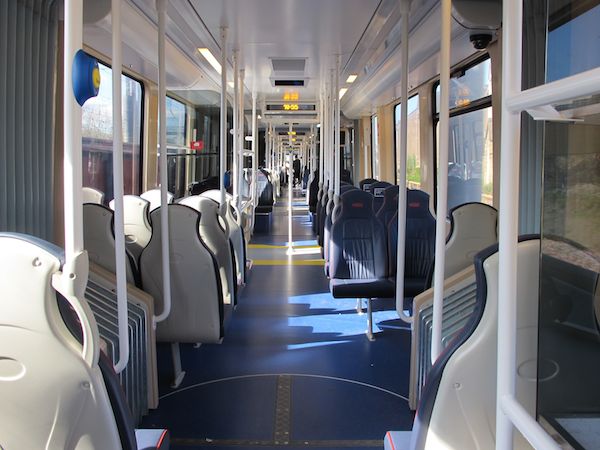 On Thursday lunchtime tram passengers threatened to pull the emergency lever if the conductor would not open the doors to let them off. 
The tram was travelling towards the city centre but when it got to Haymarket the vehicle was stopped by the traffic signals and was there for well over ten minutes before moving.
Kaylan Geekie (32) who is a trainee sports journalist was on the tram from Murrayfield where he had been listening to Vern Cotter's team announcement for today's rugby international. Geekie explained that soon after he got on the tram at York Place there was a message from the operator that the trams were running late owing to problems in the city centre. On the way back there was no such travel advice.
The tram back from Murrayfield stopped at Haymarket, and the passengers waited….and waited. The most annoying part for them was that buses and cars were still moving through the traffic lights but the tram was at a standstill.
The word from the driver's cab was that no-one was allowed to leave the tram. Even when passengers threatened to pull the emergency door switch the Edinburgh Trams conductor in the tram explained they might face prosecution.
Geekie said: "Some of the passengers were quite overbearing. The ticket collector was only doing as she had been instructed."
The Edinburgh Reporter asked Edinburgh Trams for their view on what happened. A spokesman said: "We apologise for the delay and we understand the frustration but for safety reasons we can only let passengers on and off at the tram stops in normal circumstances."
The Edinburgh Reporter understands that if there had been an emergency then there would have been an organised evacuation, but there was not thought to be an emergency on Thursday.
You can check the status of all trams and buses in Edinburgh here on the Edinburgh Trams website.