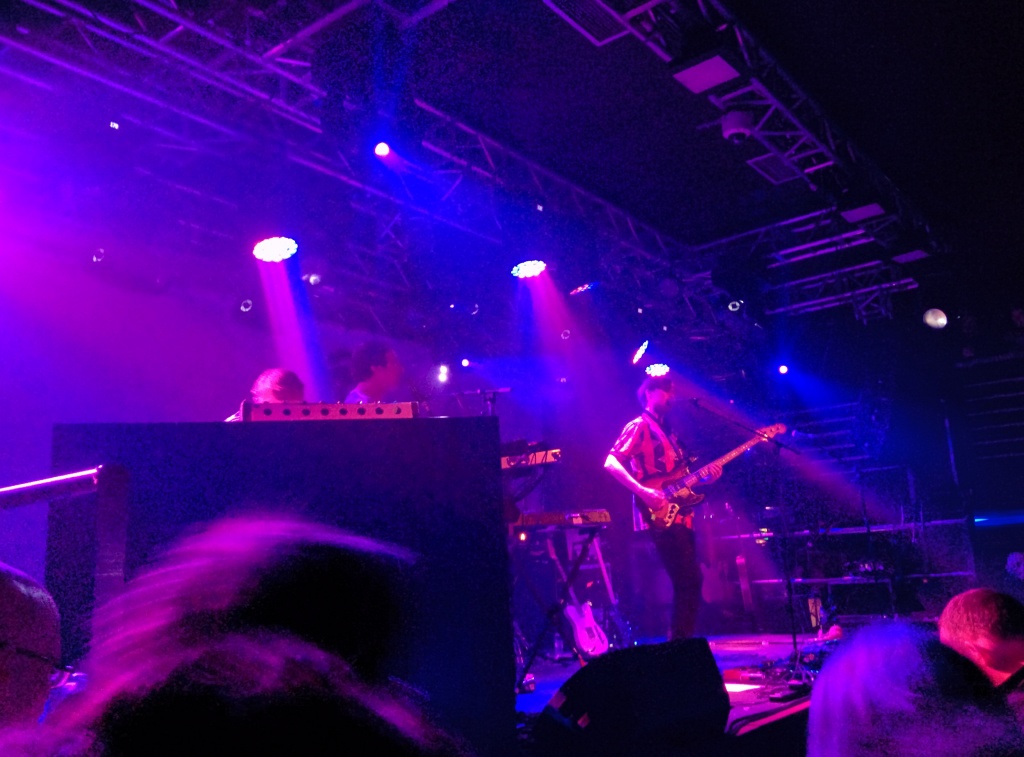 The buzz around some bands these days has become a case of 'been there, done that'. But when you take five sounds and mash them up together to the point where you have a resounding mix of surf, psych, funk, electronica and jungle, then art rock has been taken to serious new level. Beyond these layers, the sanguine hand-clapping, futuristic disco beat brings out the tango in all of us.
What genre are Django Django? That is anybody's guess. Certainly art rock if one definitive genre was to be determined. Their music is like a painting, in respect that many layers are finessed to perfection. And, oh, it must be difficult to replicate live. Is it? Rubbish.
Django Django's studio to live transition is beyond exquisite. Every little detail is on that tiny Liquid Room stage: enough keyboards and synths to vaguely satisfy Rick Wakeman, to a torrent of percussion, including an enormous tambourine that keyboardist Tommy Grace can barely keep hold of. Yet amazingly, Django Django maintain a gleeful performance while producing mellifluous sounds live.
Spending a year-and-a-half brushing up on their new album, which is due to be released mid-year, is perhaps the most sensible thing the guys at Django Django could do, as the three new songs sound on par, if not better than their critically acclaimed debut. The hits only get slightly more praise, which shows the strength of the song debuts.
Pop music is pretty much in disarray at the moment with 15 writers per song still ending up with something uninspiring. This whole Django Django phenomenon, which is bound to flourish based on the demand of their first album, could be used as an influence for current pop stars to show what they could actually do with their music.
It's not overproduced or clutter, it's consistent art pop-rock music with several winding twists, meandering through various genres without becoming too complicated. It's like combining the past, present and future all in one to make something that is purely magical.