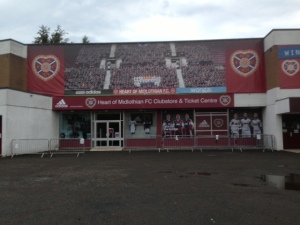 Police are investigating after the  Tynecastle shop at Heart of Midlothian FC was broken into at around 10.15pm last night.
The suspects stole a number of Hearts shirts. They are described as pale blue and white striped Adidas short sleeved shirts, bearing the Hearts logo on the left breast.
Suspect descriptions are not available at this time.  Police Scotland can also confirm that the shop will be open in time for today's Edinburgh Derby.
Superintendent Phil O'Kane, Match Commander for today's New Year Derby, said:  "This was a calculated theft with the explicit aim of retrieving merchandise which could be illegally sold on.
"We are asking the public and those attending Tynecastle today to be especially vigilant.
"Should any persons be seen today selling or offering these shirts for sale in suspicious circumstances, then this theft should be borne in mind."
"Police Scotland is committed to keeping people safe and will be in attendance at today's match.  We want everyone to enjoy themselves, but at the same be watchful for any criminality or anti-social behaviour on the day and report it to police."
Anyone with information regarding this incident should Police Scotland immediately on 101 or anonymously through Crimestoppers on 0800 555 111.