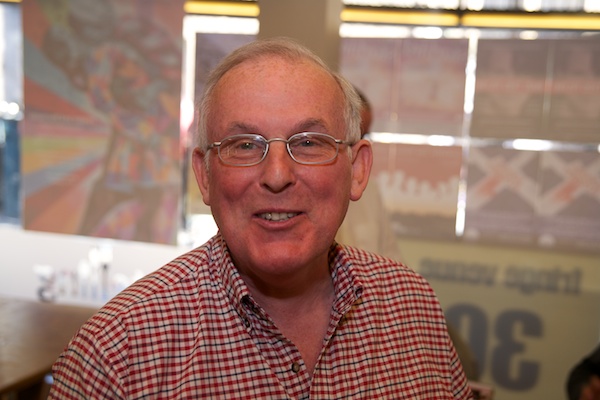 Alex Wilson did not live all of his life in Leith, nor was he born there, but he was a sure and certain part of the fabric of the area until his untimely death last week.
The Edinburgh Reporter met Alex in his guise as Chair of the Leith Business Association. Then of course he was a historian, and yes there was the flag, oh and the walking tours. He was passionate about everything he did, but passionate in particular about Leith. He will be very much missed by all who knew him.
Depute Lord Provost Councillor Deidre Brock said: "Alex Wilson was one of this community's biggest champions,  and was involved in so many different campaigns on behalf of his beloved Leith. He always wanted the very best for the area and for everyone who lived and worked here, and he will genuinely be greatly missed by us all".
His friend and colleague Cron Mackay writes:
I first met Alex Wilson when he spoke to Leith Rotary about bringing the Leith Flag home to Leith and having a large number of Leith Flags decorating the town.

He was so very passionate about this that it almost amounted to a crusade. He strongly believed that every Leither should have the right to fly their own flag. He managed to persuade Councillor Rob Munn to become a supporter and the Coat of Arms were eventually awarded to Leith Neighbourhood Partnership. Unfortunately, although he won the battle, he lost the war, and the only Leith flag that was ever flown, adorned Leith Library until it became tattered and was brought down.

Another crusade was in support of the business owners in Leith Walk and Constitution Street. The almost constant disruptions to the businesses there caused by continual preparation works for trams had caused fury from many local owners.

He tried to contain this, and through the Leith Business Association, to discuss the problems with Councillors and Council Officers. He was positioned in a very difficult place between furious owners and Council Officials who seemed unable to give any reassurances.

However out of this evolved the Stakeholders Committee which oversaw the works and informed the businesses. Indeed, with the recent works, the council has produced detailed predictions of the times when road disruption would occur and in which section. This has gone a long way to assist the shops and other businesses. Although the battles involved in getting there nearly destroyed Leith Business Association, Leith Walk business owners owe Alex a huge vote of thanks.

He made several other attempts to achieve large improvements in Leith. We both felt strongly that a well marketed Leith would be of immense benefit to Edinburgh. We did not succeed at the time either. However, the signs are that many of these projects will happen in the near future.

When we all look back, we may well realise that his vocal single minded determination set us all on the right path to a resurgent Leith.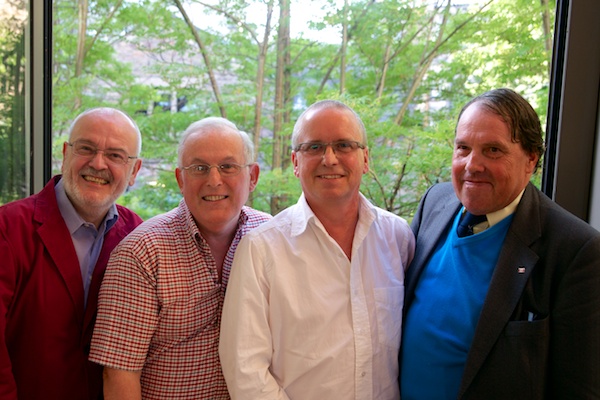 Former landlady of the Port O' Leith, Mary Moriarty said: "I met Alex many times at meetings and of course in the streets when going about his business. His enthusiasm and dedication to Leith will be sadly missed. The Leith Festival poster for next year has three Leith flags on it. He would have liked that."
Sandra Marshall said:- "Alex Wilson will be sorely missed in Leith.  He threw all his experience, into trying to help Leith become a better place, and we will all remember a strong, committed person who never gave up trying to help our community."
Nick Gardner, Labour Councillor, Leith Walk Ward said: "Alex had a lively, playful and creative character. I am very sad that his boundless energy has been taken from us, and will miss him very much."
Keith Hales has organised a wake in Leith following the funeral which is to be held in St Monan's this Friday
Friday 12th December, 12.15pm service in the church then 1.00pm at the graveside
St Monans Parish Church Braehead St Monans, Fife
There will also be a gathering afterwards, most likely at The Ship Inn, Elie which is a short distance from St Monan's en route back to Edinburgh.
The Leith wake for Alex has been provisionally been arranged for Friday December 12th  at 7.00pm at Teuchters Landing Leith.