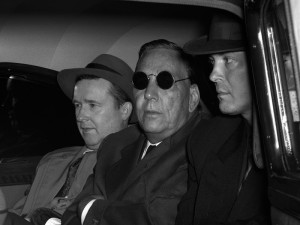 There's a hotel with mysterious occupants; a group of run-down clapboard houses dominated by a junk company; a film about childhood terror – these are just some of the works in an outstanding new exhibition by Stan Douglas at The Fruitmarket Gallery.
Born in Vancouver in 1960, Douglas came to prominence in the 1990s, when his film installation Der Sandmann was the highlight of Documenta X. The film is shown at The Fruitmarket as an example of Douglas's examination of the intersection of history and memory.
A man, face to camera, reads a letter telling his siblings of an unnerving incident he has just experienced; returning to the area of their childhood, he has seen a man, a gardener, who has inexplicably terrified him. Behind him we see film of an elderly man working in a small yard. Other voices – the speakers unseen – enter; the reader's brother and sister remind him of their juvenile fear of the sandman. At night their mother would say that when she could hear him coming it was time to go to bed – but another brother would tell them that if they didn't go to sleep the sandman would throw sand in their eyes until they bled and popped out. The sister explains that the reader was only afraid of two things as a boy; the sandman and water heaters. He believed that the flame of the water heater was the devil trying to escape, and the whoosh of the heater was him doing just that. The gardener, Copelius, who did not like children, seemed to them to personify the evil sleep enforcer, 'we knew he was the sandman'.  But there is more to the story than that; late one night the children's mother is called away – when she returns she tells them that their father has been killed. The reader seems to have little memory of these events.
Freud called Der Sandmann (the film is based on an 1816 story by ETA Hoffman) a representation of repression and alienation. Douglas shot the video as a two-track 16mm film, and the recordings are played together but slightly out of sync, so that we see the garden as it was in the 1960s (as part of the German policy to provide plots for poor people to grow their own food) and later, as a building site. Der Sandmann raises questions about memory, repetition, understanding, and the transformative effects of history.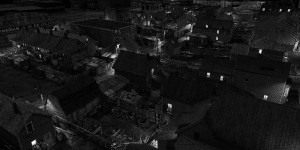 Upstairs in the gallery, two striking black pictures Hogan's Alley and The Second Hotel Vancouver were originally used as a backdrop for the play Helen Lawrence, which Douglas staged at the Edinburgh International Festival earlier this year. On closer examination, these works  – which are in fact digital c-prints mounted on dibond aluminium – are exceptionally detailed, drawing the viewer in with their fascinating stories. Hogan's Alley was an area of Vancouver – demolished in 1972 – housing poor Chinese, Italian, Japanese and Black families; the play focused on police harassment of the residents. Douglas's print shows a dark, sinister area broken up by small patches of light; houses are ramshackle with outside staircases and ropey clapboard walls. In one area old barrels lie in a pile; the house at the bottom corner of the canvas seems to tilt at an angle. The whole scene is overlooked by the huge frontage of The Canadian Junk Co Ltd; despite the fact that the real Hogan's Alley was a vibrant community with its own cultural life, it was to be swept away by urban regeneration plans; to the city, it was junk.
The Second Hotel Vancouver is an equally gripping piece.  The hotel was used to house veterans after the Second World War; we see its towering bulk in darkness, but here and there a window is illuminated. Through one we see the end of plain iron bedstead, its bars reflected on the wall, the identity of its occupant unknown. In another room dresses appear to hang in cages; a third houses a woman's head wearing sunglasses – is it real or a mannequin? Lower down the facade two adjacent rooms suggest a threadbare life; the first is furnished with an old-fashioned chair and plain bed, the other with a cheap dresser, one drawer hanging open. Far below in the street, the lights appear tiny and insignificant. A ground floor room seems to be home to a pile of discarded junk, an old football net. Everything is run-down, discarded like the veterans themselves. Douglas depicts this scene in his characteristic film noir style.
A second film installation Video (2007) is a reimagining of both Orson Welles' The Trial and Beckett's Film.  A standard 1950s North American secretary – coiffed hair, cigarette, cynical expression – is talking to someone unseen; the sound is dulled so that we cannot quite catch the conversation. Outside in the hall, people queue on the stairs – perhaps in the hope of a job, although the scene is almost reminiscent of Ellis Island.
Amidst panoramas of cold and uninviting cityscapes, apartment blocks and empty lots, a figure walks across the barren wasteland of a 'garden' to the foyer of a building.  It is empty, the doorman's window boarded up. Upstairs, a black woman prepares for bed in her tiny studio, placing a cover over her pet bird's cage. (Cages are a frequent motif in Douglas's work – in Der Sandmann birds flutter in a pen behind the speaker, reminding one perhaps of Miss Flite's aviary in Bleak House – she will release her birds 'on the Day of Judgement').  A little later, a detective (or spy?) is in the room, haranguing the woman, who is eventually dragged across a deserted parking lot by the man and his colleague. Soon they are in what looks like the cells of a prison – but the woman is sent off down a long subterranean passageway that ends in an old-fashioned court, or perhaps even a lecture theatre.  There white people seem to be asking her questions, interrogating her, even laughing at her; she raises her arm in a move that could be defensive – or could be a Black Power salute. We never see her face.
Back in the cityscape of soulless buildings, a sudden gunshot is especially shocking because the rest of the film is either silent or muted. Red and green lights flicker across the darkened screen. Are they held by people watching us, the people who are watching them?
Downstairs, the gallery shows two of Douglas's series of photographs. In the first, Midcentury Studio, Douglas poses as a fictional American press photographer, meticulously creating shots that reek of 1950s urban life.  Illicit gambling features heavily; in Dice men throw dice for money; Douglas hired a building to style the scene, even having someone throw dice on the floor for a whole day to make a real dent in the floor. Intrigue 1948 is a pair of women's high-heeled shoes, standing on a mirror so that their reflection fools us into seeing two pairs. 'Intrigue' is the brand name of the shoes; we are also left intrigued about their owner. Meanwhile Cache depicts a panel cut out of a suburban, cheaply wallpapered room. Behind it is all manner of gambling paraphernalia, from chips and cards to dominoes; bottles of illicit liquor complete the tableau as a thick-fingered, cigar-wielding hand reaches into the space.
The second series, Malabar People, consists of digital prints of characters frequenting a 'semi-fictional' 1950s bar; all stare directly into the camera, all convey stories that we would like to hear – Cab Driver and West-Side Lady are particularly effective in making us want more.
The exhibition is completed by some large – and, unusually, colourful – images of pure digital data. Corrupt Files (2013) show varying vertical lines, recalling scenes from Disney's Fantasia, though here they represent computer code rather than music.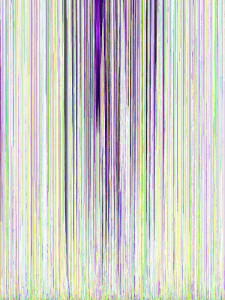 This is an absorbing and challenging introduction to the practice of Stan Douglas, an artist 'whose investigations into mistaken identity and unstable memory, reconstruction, reinvention and the long shadows the past casts into the present make him one of the most interesting and important artists of our time' (Fiona Bradley, Director of The Fruitmarket Gallery).
Stan Douglas runs from 7th November 2014 to 15th February 2015 at The Fruitmarket Gallery, 45 Market Street. The gallery, which is publicly-funded and not-for-profit, is open 11am-6pm Monday to Friday, 12 noon-5pm on Sundays. It will be closed 24th-26th December 2014. Entry is free.
A new publication Stan Douglas, with contributions from a number of writers, is available in the gallery shop at the special exhibition price of £15.
The gallery will be running a number of events in connection with this exhibition, starting with a free artist's talk by Stan Douglas in conversation with Fiona Bradley at 5pm on Friday 7th November. For more details of workshops, talks, pop-up art noir dinners and a special evening of Murder at The Fruitmarket Gallery, see the Fruitmarket website.