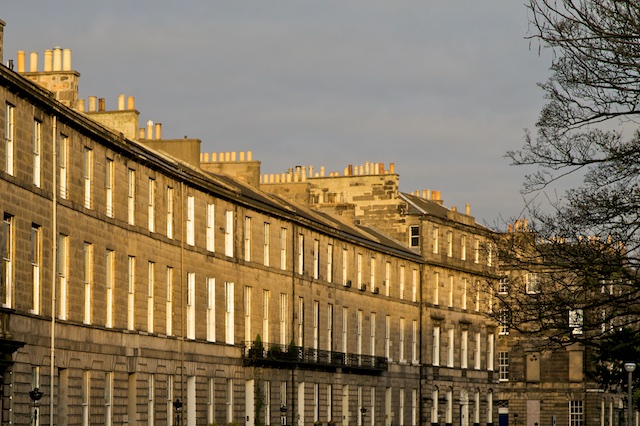 New adverts will increase council revenue
Meet the Film Maker
Good Food for All in Pilton
Shop at the Zoo
Police Box in Marchmont to become Coffee shop
The Development Management Committee will probably grant permission for a variety of illuminated advertising displays around the city this morning, partly because some of the adverts are already in place and partly because they are essentially granting permission to the council.
Edinburgh City Council has entered into a new arrangement with the advertising company JCDecaux under which they will provide advertising and street furniture across the city (and perhaps a cycle hire arrangement too). There will be new advertising opportunities on land and buildings which the council own as long as the planning permission is put in place, and this will mean more advertising revenue will be paid to the council. All the new advertising will feature LED or solar lighting and renewable energy.
This morning they will possibly just rubber stamp the officers' recommendation to grant planning permission for the billboards at a variety of sites across Edinburgh on the West Approach Road, Glasgow Road, Calder Road, London Road, Peffermill Road, Roseburn Terrace, Sir Harry Lauder Road, Telford Road and Westfield Road.
***
One of the drama lecturers from Queen Margaret University who has won awards at Cannes is curating the French Film Festival shorts programme 'Short Cuts' which will take place in The Filmhouse Edinburgh during November.
Irvine Allan has collaborated with independent filmmaker Andy Gunn from Glasgow Film Crew to develop the French Film Festival's short film strand which includes links with local and national film students.
The festival, which will take place in Edinburgh Filmhouse and Glasgow Film Theatre, will present work from a crop of directors who represent the future of Francophone cinema. Many of them have already received awards and made appearances at film festivals around the world.
The Short Cuts programme includes the Oscar winning short film Mr Hublot which is directed by Laurent Witz.
As well as screening a range of short films, Irvine and Andy will launch a new exchange programme for both Francophone and UK filmmakers, and promote a short film competition.
A 'Meet the Film Maker' session, with Irvine Allan, will also run at Queen Margret University, Edinburgh on the 24th November at 10.15am. (Booking required)
The French Film Festival shorts programme 'Short Cuts' will screen at the Edinburgh Filmhouse on Sunday 23rd November at 3.30pm and at the Glasgow Centre for Contemporary Arts on 24th November at 2pm
***
The Pilton Community Health Project invites you along on 1 December 2014 to a Good Food for All meeting at the West Pilton Neighbourhood Centre. The day will run from 9.30 until 2.30 and the idea is to promote discussion about tackling food poverty.
You will find out about the current levels of food poverty, some of the good work that is being done in North Edinburgh, network with those groups that you might be able to cooperate with and discuss ways to move all of this discussion into action.
Keynote speakers Bill Gray from Community Food and Health (Scotland) and Mary Anne MacLeod Poverty Alliance and Lucy Aitchison from Broomhouse Health Strategy Group.
The aim is to develop a manifesto for change to tackle food poverty in this area of Edinburgh
More information here on the Project's Facebook page.
***
Do your Christmas shopping at Edinburgh Zoo this year on two special evenings when the gift shop will stay open late.
New for 2014, meet Santa and experience some animal magic this Christmas with special shopping night events at Edinburgh Zoo. Within the festive environment, visitors can buy unique animal themed gifts, ethically sourced presents or even a magical keeper experience. Santa will also be taking time out his busy schedule to stop by his special Zoo grotto to meet and greet little ones; he'll even have a little gift for them too!

You might not be able to take home an actual penguin like Monty from the heart-warming John Lewis Christmas TV advert, but you could choose from cuddly penguins in every shape, colour and size; a Penguin Magic Moment where your loved one gets to feed our penguins and take part in our famous Penguin Parade, or even officially adopt one of our penguins (which would have to remain at Edinburgh Zoo!). All great gifts for a good cause, money raised goes towards helping to protect vulnerable animals across the world.

Come along to the Zoo between 4.30pm and 7pm on Wednesday 26 November and Wednesday 10 December to enjoy special discounts on selected products. Members of the Royal Zoological Society of Scotland will also receive a 25% discount off product lines not specially discounted for the events. The nights will also include food tastings and face painting, as well as much festive cheer!

At the second of the two events St George's School choir will sing carols whilst you shop.

This event is free to attend with Santa's grotto costing £3 per child. Booking is not required for the event or Santa's Zoo Grotto. Please note, access is to the Edinburgh Zoo shop only and not the Zoo itself.
***
It would be an interesting exercise to find out how many coffee shops there are in Edinburgh (not forgetting Eteaket and Pekoe who serve tea….) Now there is a planning application for a police box in Marchmont to become another coffee box with an awning to the front. The police boxes recently sold by the Scottish Police Authority must be painted a different colour after the new owner takes over. In common with others around the city the box will now sell the black stuff to those who can't get through the day without it.
Here is a photo of the Marchmont Crescent box from the Flickr collection by Star Cross dating from 2010:
The Edinburgh Reporter has a storyboard of photos of police boxes over here on our sister site EdinburghReportage. Add your photos please! There are many that we have not yet managed to capture yet.