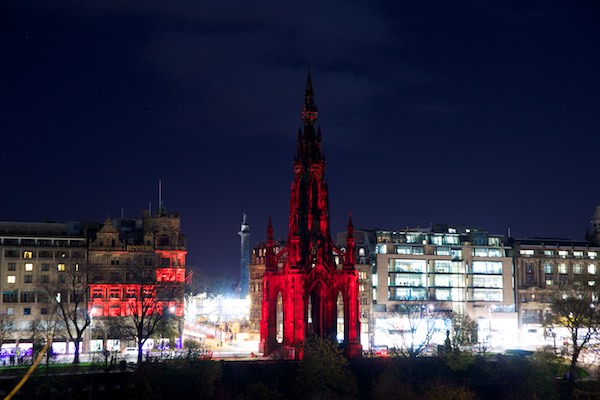 Remembrance Sunday – First Minister to lay wreath in Edinburgh
Legion Scotland's Edinburgh parade
Hearts remember at Haymarket
Roads around Portobello
Teenage Book Group
First Minister Alex Salmond will attend the National Remembrance Service at St Giles Cathedral this morning where he will lay a wreath at the Stone of Remembrance on behalf of the people of Scotland.
The 2014 service is especially poignant as it comes during the centenary commemorations of the First World War.
Ahead of laying a wreath at the Stone of Remembrance in Edinburgh, the First Minister said:
"The people of Scotland will always honour, with respect and appreciation, the memory of those who made the ultimate sacrifice on our behalf.
"Scotland, in common with so many other nations, suffered an appalling loss of life in the Great War, and its effects on Scottish life were profound and long-lasting. Not one single community was untouched by the conflict, and rural Scotland suffered particularly severe losses.
"This week, I announced the latest funding from our £1 million Centenary Memorials Restoration Fund, set up to restore lasting tributes to fallen servicemen and women. It is hugely important that these memorials are properly maintained. We owe it to the names inscribed on these memorials as well as to their living relatives to keep monuments in a proud condition, reflecting the respect they deserve.
"It takes an incomparable event to bring a whole nation to a halt – united in remembrance, reflection and gratitude – and there is no more profound an event than a conflict that saw over a hundred thousand sons, fathers, uncles never return from the front line. Today we stand with members of the German Navy to remember and pay tribute to the fallen; a true symbol that in conflict there is always the resounding hope for peace and reconciliation."
***
Scotland's largest veterans charity Legion Scotland, the day to day name of the Royal British Legion Scotland,  leads the nation in observing Remembrance Sunday with the parade and ceremony in Edinburgh..
The annual Remembrance Parade takes place at the Stone of Remembrance, City Chambers at 11.00am. The Gun will be fired from Edinburgh Castle and a two-minute silence will be observed, marking the centenary of the start of the First World War. This will be followed by a service in St Giles Cathedral.
Legion Scotland's Remembrance Sunday parade of veterans, serving military detachments and cadets will begin at Edinburgh Castle and will march to the Stone of Remembrance at the City Chambers where it will be met by official figures including the Lord Lieutenant and the First Minister.
VIP Meghan Mathews, 10, will lay a special wreath for children whose lives were lost or changed forever by war.
Her father Jonathan served in Afghan and was just 35 when he was killed in 2008. Sergeant Jonathan Mathews served with the Army for over 19 years. He was shot and killed in Afghanistan during an ambush by a sniper.
Sergeant Jonathan Mathews served as a trainer to the Afghan Army. He was attached to The Highlanders, 4th Battalion. When he was killed Sgt Matthews and five colleagues rushed to treat an injured nine-year-old boy after a suicide bomber killed four people at an Afghan army base.
Meghan, who attends Prestonpans Primary School, will wear her father medals and lay a wreath at the parade before receiting a reading of Binyon's Lines.
Meghan's mum Shona, 46, from Edinburgh said, "We speak about him every day and at night she kisses a photo of him. We have kept everything. It's important for Meghan to be able to remember. So I keep everything in a box, photos, medals and things that belonged to her Dad. Every year around Remembrance Sunday we get out the box and look through all the things."
"My husband always led from the front and was first to go in. He volunteered to go to Afghanistan. Nothing will ever take away the loss. Meghan will grow up without her father. Every Remembrance Sunday no matter where I am I cry for him. Laying the wreath is a great honour for Meghan and I am so very proud of her."
Meghan's grandfather, William Myles, will also attend on Sunday 9th, he is a member of Prestonpans branch of Legion Scotland and served with the Highland Fusiliers.
A German marching contingent will also take part in the Act of Remembrance and wreath laying ceremony. The Naval attaché are taking part while the German Frigate ship the Brandenburg is docked at Leith on a routine visit.
The contingent of 20 will form a fourth detachment at the event and the Commanding Officer Ivo Schneider will lay a wreath. It is the first time that the German military have taken part in the Remembrance ceremony, organised by Legion Scotland since 1921..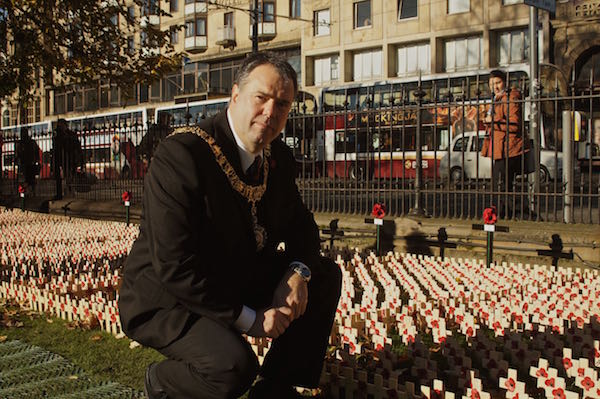 Wreaths will also be laid by the Lord Lieutenant and Lord Provost of the City of Edinburgh, the Rt Hon Donald Wilson, the Rt Hon Alex Salmond MSP First Minister of Scotland, the Armed Services, Emergency Services and other public bodies after a short open air ceremony to commemorate the sacrifices made by members of the Armed Forces and civilians during times of war.
Following the Parade VIPs will join members of the public at a Service of Remembrance at St Giles Cathedral.
The Edinburgh Parade is one of over thirty events across Scotland on Remembrance Sunday organised by hundreds of volunteers for Legion Scotland.
Kevin Gray MM, Chief Executive Officer of Legion Scotland said, "On Remembrance Sunday, our heartfelt tribute will be paid to every single serviceman and woman that has fought and died to keep us safe. On this momentous day and during the centenary of the start of WW1 our thoughts will also be with those who still serve in our Armed Forces and families like Meghan's whose lives are changed forever by war.
"We are delighted to welcome the German contingent at this Remembrance event for the first time in its history. This is the first time a foreign Navy has taken part and it's incredibly fitting and positive that we can come together to pay tribute to all those affected by war at the national Remembrance event for Scotland."
"No matter where we come from we can all join together to show our immense gratitude and respect for the sacrifices made on our behalf by so many brave men and women."
Legion Scotland plays a lead role in organising Remembrance events across Scotland and helping to preserve Scottish war memorials. The charity also works with schools to educate children about Remembrance.
Every year Legion Scotland runs a competition for primary schools to encourage them to research the stories behind the names on their local war memorial. The charity also launched the Voices of Veterans campaign to preserve stories of ex servicemen and women and their families during the centenary of the start of World War One.
***
Today the Hearts first-team squad, coaching staff and Board members will take part in the annual memorial service at Haymarket, where it is expected that over 2000 people will be in attendance.
Supporters intending to go to the service should arrive in plenty of time so that the event can begin at its scheduled time of 10.40am.
Fans are asked to assemble in Morrison Street, which the club has worked hard to have closed for this purpose, and where a special sound system has been installed to relay sound from the event.
The club would like to thank the Haymarket Bar for giving use of its power during the service. The Haymarket Bar will also be open prior to the event for supporters who wish to purchase breakfast before the day begins.
Heart of Midlothian Football Club asks all those planning on going along to the service to respect the crowd-control measures which will be in place to help the event proceed in a dignified and orderly manner.
There are two war memorials for the First World War. The first is the McCrae's Battalion Great War Memorial in Contalmaison France and the second is the Heart of Midlothian War Memorial in Haymarket which was donated to the city by the club a short time after the First World War ended.
***
Councillor Maureen Child has been in touch to tell us about some road disruption in her Ward:
In consultation with the Council's local neighbourhood roads team, the house builder at Newcraighall North site between Gilberstoun and Newcraighall, Barratt's, have now confirmed the date for the closure of the A6095 to Musselburgh, to allow for the dismantling of the Newcraighall disused rail bridge. The road will be totally closed for one week, starting Monday 17 November. In addition, there will be some preparatory works prior to the 17th and some additional works for a couple of weeks after.

I am advised that Duddingston Road West, which has been closed for some weeks to allow renewal of the railway bridge, will re-open on Monday – so the No 42 bus should be back to its normal route.

The Sir Harry Lauder Road is also down for resurfacing, starting next week, with a squad working through the night.  Peffermill Road will be closed for a few days in January for vital Scottish Water works.
***
There is a teenage book group which meets today at Blackwell's on South Bridge at 2.00pm. The group is currently reading Faye Bird's My Second Life. If you join the book group then you get 10% off every book that they read. To join just get in touch with Blackwells by clicking here or drop in at the shop.