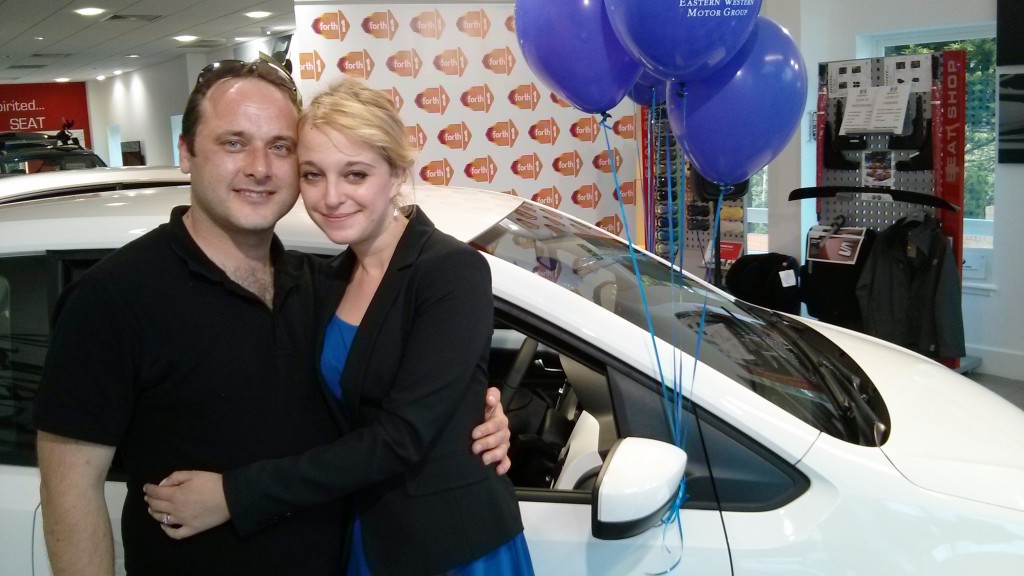 When lucky Gregg Nicolson won a SEAT Mii Toca in a radio competition it was his wife Rachael who proved to be the real winner…
For learner driver Rachael needed a car especially as she takes her driving test next month, so thoughtful Gregg had no hesitation in presenting the thrilled 27-year-old with the popular city car.
And the timing could not have been better as the couple celebrated their sixth wedding anniversary the day after Gregg was unveiled as the winner in the showroom of Western SEAT in Colinton Road.
Gregg, 35, from Loanhead, near Edinburgh, said: "It was a no brainer to give the car to Rachael. She works 15 miles away and the public transport links are not very good.
"Naturally she was thrilled to receive a brand new car which is ideal to learn to drive in. And the fact she received it just before our wedding anniversary was the icing on the cake.
"She absolutely loves the car and she will be taking her driving test in it on November 18."
Thrilled Rachael, a research scientist, said: "I feel extremely lucky to be driving this car. It's wonderful that Gregg won it in the first place and then to present it to me on the eve of our wedding anniversary was a really romantic gesture."
Gregg bagged the Mii Toca, worth £9,995, after entering a competition on Forth One, the hits based FM station for Edinburgh and East Central Scotland.
Listeners had to tweet #WinMii to scale in a map of Edinburgh and reveal the location of a number plate that would be their ticket to the finale. Four finalists each selected a number plate and the winner had the plate that matched the one covered by a sticker on the car.
Neil Burgess, General Manager at Western SEAT, said: "Gregg's luck was really in during the competition. The timing for winning this superb car could not have been better with a wedding anniversary to celebrate the next day and Rachael's driving test just a matter of weeks away."
Gregg, who works in the petrochemical industry and drives an estate car, added: "I think SEAT is a fantastic brand which has come a long way. I am used to driving big cars but as soon as I got in the driving seat of the Mii Toca I thought how lovely it was. Now the more I drive it the more I like it.
"When the sticker came off the number plate I was shell-shocked and totally overwhelmed. I didn't think for one minute I would be a winner."
As well as Rachael planning to use the car for her daily commute once she's passed her driving test, the couple plan to use it for 140 mile trips to visit relatives near Glencoe in the Scottish Highlands.
The innovative Mii Toca is a car that combines style, comfort and sportiness. It comes with 14" alloy wheels, rear parking sensors and body-coloured electric wing mirrors. Inside you will find electric windows, a leather steering wheel and gear knob, air conditioning and the SEAT Portable System Live, featuring satellite navigation and Bluetooth.
Picture caption:  Gregg and Rachael Nicolson are thrilled at taking ownership of a SEAT Mii Toca