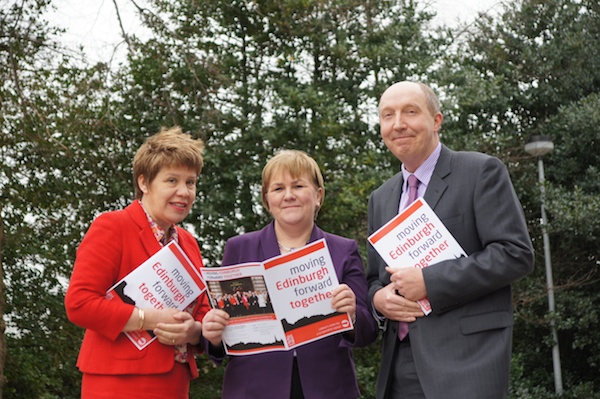 Our photo is from the launch of Edinburgh Labour's manifesto in March 2012 when the Edinburgh Council Labour group were fighting the local election.
Councillor Lesley Hinds and Councillor Andrew Burns were joined by Johann Lamont the Scottish Labour Leader who just last night announced her resignation as leader, although she will continue to serve as MSP for Glasgow Pollok.
So who will now step up to the Scottish Labour leadership position?
Would any of our Edinburgh politicians be up for the role?
Who do you think might be willing and able? Do tell us what you think below!
Here are the MPs… (hover over the image for a caption or click for a larger photo)
And at the Scottish Parliament we have the following representatives (hover over the photo for the caption or click on it for a larger photo)
In our City Chambers we have a number of Labour representatives. Would any of them like to take up the challenge? (hover over the photo for the caption or click on it for a larger photo)
Whatever happens it appears that the Scottish Labour Gala Dinner at the end of the month may be an interesting affair. Johann Lamont was to host alongside the Rt Hon Ed Miliband MP and the invitation was sent by the now ex Scottish General Secretary, Ian Price.
Thank you to Ross McCafferty on Twitter for alerting us to this gem!
Ian Price (gone) takes pleasure in inviting you to gala dinner hosted by Johan Lamont (gone). Should be fun! http://t.co/sr3oLF4Cn9

— Ross McCafferty (@RossMcCaff) October 24, 2014
More details if you fancy a night out in Glasgow here.