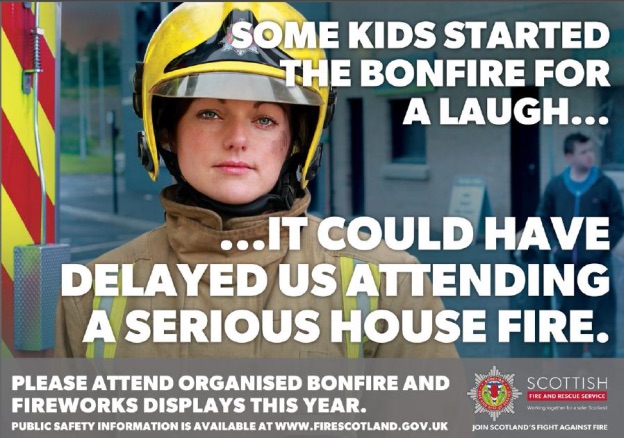 Edinburgh Fire Officer is appealing for the public's help to ensure that 2014's Bonfire Night is the safest ever for the City of Edinburgh.
Bonfire Night is traditionally one of the busiest nights of the year for the Scottish Fire and Rescue Service with the number of emergency calls typically experiencing a 40% increase throughout the period. SFRS is up to four times busier on 5 November than any other night of the year.
From 2009 to 2012, the number of secondary fires, which includes bonfires and refuse fires, averaged 1118.  In 2013 there was a significant drop in this number to 517 bonfires on November 5th, with an overall drop in secondary fires of around 40% compared to 2012. SFRS aims to maintain and improve upon this decline in calls for Bonfire Night 2014.
The Service is appealing to the public to stay safe this Bonfire Night by attending organised events rather than staging their own bonfires or fireworks displays. The Edinburgh Reporter tells you where these are here in our Bonfire Night article.
Steve Gourlay, Group Manager of Prevention and Protection for Edinburgh said:
"This year we want Bonfire Night to be the safest one on record. I'd ask every member of the public who is thinking of holding their own bonfire or fireworks display to attend an organised event instead.  These events are well planned, much more spectacular than a DIY display and most importantly it's much safer for you, your family and friends.
"When our crews are called to attend bonfires it means we have to divert resources away from other emergencies and life threatening calls – that could end tragically for anyone who truly needs our urgent help.
"We want everyone to be able to celebrate on 5 November and have fun, but in a safe way that doesn't require the intervention of the emergency services.
"In the run up to Bonfire Night 2014 our Service personnel have been going to schools across Edinburgh to teach children about the dangers associated with bonfires and fireworks.
"We can all play a part in making this time of year safer. It is against the law for fireworks to be sold to children and young people. If you are aware of this happening please report it to Police Scotland or Trading Standards.  We would also encourage the public to report unsafe or dangerous bonfires or bonfire materials and any suspicions of deliberate fire setting. In doing this, we can keep our communities safer together."
"The public are requested to pass on any information about who may be responsible for fire setting to Police Scotland using the 101 non-emergency number or Scotland Crimestoppers 0800 555 111."
An informative play called 'TOAST' about the dangers of misusing fireworks has been performed to around 1,500 S2 pupils in schools across Edinburgh during the run up to Bonfire Night.
The play, originally commissioned by the Royal Society for the Prevention of Accidents (RoSPA) in Northern Ireland, has been adapted for Edinburgh and is being staged by the Strange Theatre Company.  It lasts for 30 minutes and has been organised by staff working in the City of Edinburgh Council's West Neighbourhood Office.
Group Manager Gourlay said: "We work closely with partner agencies, including the City of Edinburgh Council and Police Scotland, to raise awareness of the risks and dangers associated with bonfires and fireworks as well as delivering fire safety advice to schoolchildren across the area.  Toast, which highlights the dangers associated with fireworks, is an excellent example of this type of initiative.
"Every year, hundreds of people in the UK are injured by fires and misusing fireworks which are very similar to explosives. Most at risk are unsupervised children, particularly those who play with fire or who get too close to bonfires. We want everyone to enjoy this time of year but to stay safe and advise they stick to supervised bonfires and firework displays."
On bonfire night, Police Scotland will be utilising the SFRS Community Action Team and Police Officers to engage with members of the public to ensure any bonfires lit are as safe as possible.
Group Manager Gourlay added: "Unfortunately, last year there were a number of 'violence to crews' incidents with fireworks being thrown and verbal abuse shouted along with vital equipment being stolen from a fire appliance.
"We hope our efforts to engage with the local community and our work in youth diversion schemes makes it clear that this type of anti-social behaviour is not acceptable to us or the wider public. Attacks on firefighters often result in appliances being damaged which can prevent them from being used until repairs are carried out reducing our available resources."
SFRS have produced lots of guidance and safety tips about Bonfire Night 2014.
Advice includes information about bonfire and fireworks safety (including a bonfire and fireworks safety leaflet available for download).