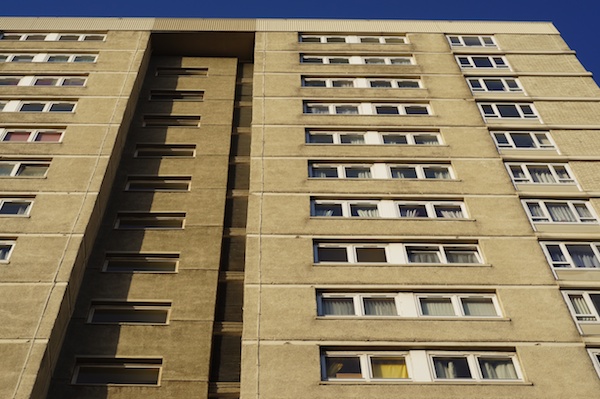 Social housing in Leith, Gala Fairydean's football ground and a Prestonpans church go under the spotlight in new research linked to the Venice Architecture Biennale.
Scotland + Venice 2014 project 'Past + Future' centres on the modernist architecture style, as applied in Scotland between 1950 and 1970. Four architect-led teams, under the direction of award-winning practice Reiach and Hall, are participating in a combined month-long residency in Venice, linked to the British Pavilion.
The first team has focused on 1960s buildings – 'scenes of everyday life built during a time of architectural innovation and optimism' – in Edinburgh and the Southeast of Scotland. They were designed by three now defunct practices: Peter Womersley; Rowand Anderson Kininmonth and Paul; and Alison and Hutchison.
The team presents research and content, including recollections from artist Toby Paterson, and author Irvine Welsh, in one of a series of specially-produced newspapers being distributed in Venice. Among the case studies are the 'Banana Flats' in Leith, and St Gabriel's Church in Prestonpans.
Over the course of the month all four teams will engage with the international architecture community. Invited speakers will use the research to generate new ideas and thinking about architecture in a modern Scotland at four consecutive weekly events in Venice. The first, tomorrow, will discuss the Edinburgh and Southeast Scotland paper.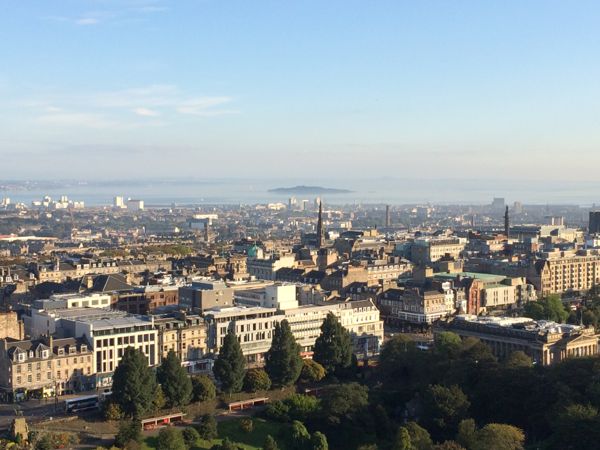 The initial research and outcomes of the debates in Venice will be brought back to Scotland in an exhibition and events programme curated by Architecture and Design Scotland at The Lighthouse in Glasgow in February and March 2015.
Cabinet Secretary for Culture and External Affairs, Fiona Hyslop, said:
"'Past + Future' seeks to trace the evolution of a changing post-war Scotland by reflecting on modernity in Scottish architecture, the values that it sought to represent, and the optimism and motivation of architects to improve the lives of the ordinary citizen.
"The four teams involved have explored how the architectural heritage of this period became an integral part of the vision for post-war change in different parts of Scotland.
"The Scotland + Venice project serves as a valuable record of developing technologies and social and cultural attitudes and intends to open up debate both at home, and further afield, about what a modern architecture was and what it might be in the future."
Amanda Catto, Portfolio Manager for Visual Arts at Creative Scotland, said:
"Creative Scotland is delighted to be working with British Council and the Scottish Government in commissioning Reiach and Hall to provide Scotland's contribution to the prestigious Venice Architecture Biennale with an examination of Scotland's modernist past.
"Through its research this project aims to spark a debate about architecture in Scotland, using recent histories – both national and international – to inform and inspire future thinking."
Lloyd Anderson, Director of British Council Scotland, said:
"We're delighted to support a group of Scotland's leading architectural practitioners and scholars address Rem Koolhaas' brief for the 14th Venice Architecture Biennale. Focussing on architectural modernity in Scotland, we look forward to seeing how this rich theme will manifest itself at the Biennale and how, in turn, the dialogue and debate will continue among Scotland's architectural community when the project returns to The Lighthouse in Glasgow in 2015."
Neil Gillespie, Design Director at Reiach and Hall, said:
"Visitors to the Biennale have been extremely interested in the Scottish research, so much so that the newspapers have been flying off the shelf and we are sending out new supplies.
"The current group are particularly interested in buildings in Edinburgh and the Borders from three architectural practices, Alison and Hutchison, Peter Womersley and Rowand Anderson Kininmonth and Paul. Many of the buildings they have looked at, designed by a talented generation of architects, are viewed by a public generally unsympathetic towards modernism.
"The group approached artist Toby Paterson to help them try and see beyond the obvious antagonism towards architecture from the 1960s. Author Irvine Welsh also shared childhood memories of Martello Court in Edinburgh.
"The group has made many contacts in Venice already which we hope to follow up."