"Thou shall hev a fishy on a little dishy, when the boat comes in!"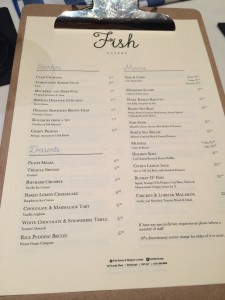 Not content with having a fabulous steak restaurant at Picardy Place called Steak, executive Head Chef Jason Wright has opened his second restaurant Fish Eatery serving… yep you guessed it fish!
The restaurant has a relaxing and contemporary nautical theme with blue and white colours throughout. In the reception area, those of you who have frequented Picardy Place will recognise the huge bar that used to be where Fish now resides! The restaurant seats 46 so has a real personal feel to it and in the back room there are a couple of fab booths you can reserve for larger groups.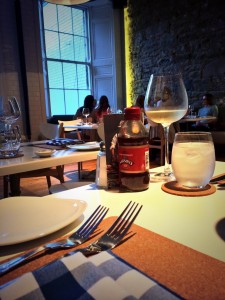 Open for lunch and dinner Tuesday through to Saturday from 12 noon until 11pm. Fish Eatery's menu features dishes such as citrus lemon sole, fish stew, halibut kiev (we will come back to this baby later!) and chicken and lobster macaroni for main courses with a wide selection of starters and desserts too, as well as an early tea time menu available until 6.30pm. All of the fish is sourced from Scottish fishmonger Gary Welch who is locally famous for offering the best fish, shellfish and seafood in Scotland.
The aim of the restaurant is to be an affordable fish restaurant where people can go and enjoy fresh fish, full of flavour any day of the week, the restaurant steers away from the usual shellfish and ½ lobster and focuses on the staple fish that is part of everyone's diet.
We were lucky enough to be invited to go for dinner. I arrived at the restaurant knowing that we were going to Picardy Place but suddenly realised I didn't know whether to go and ask the people in Steak where to go or try the hotel! As the menu was on the fence closest to the hotel we opted for that door and were correct (phew!)
The reception leads in to the bar area where we were greeted by the loveliest waitress I have met in a very long time. She was so delighted to explain to us the drinks lists and then chat through the wines, recommending an excellent white that we both loved. We sat at the bar and chatted with the staff about their favourite dishes and perused the menu. The restaurant has a really warm and friendly atmosphere and somewhere you could walk in for a mid-week meal as well as go for a special occasion.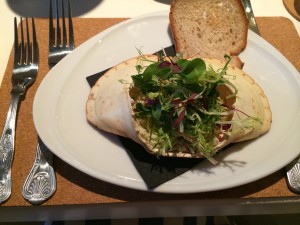 I ordered the dressed crab which came sat in its own shell and looked very appetising but unfortunately there was only the white meat so not your usual dressed crab, but the meat was clearly very fresh and tasted beautiful.  My partner ordered the rollmop herrings and they arrived in a little can with the most incredible deep fried gherkins! I've never had them before and they went really well with the vinegary flavour of the fish.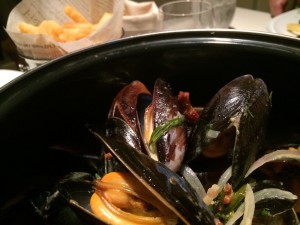 For main course I ordered the mussels (£15 a Kilo) in cider and bacon which is the best sauce for mussels ever! Move over Mariniere – there's a new sauce in town! Plump juicy mussels with chips is always a winner for me.
Moving on to the Halibut Kiev (£15) – yes I said halibut not chicken. This is such a great idea for a dish harking back to dinners after school, though this was much better presented than Dad's Kiev, chips and beans! The beans were served with crab meat and fish stock and had tons of smoky flavour which matched the fish perfectly but our waffles could have done with a bit longer in the fryer so I was nice and traded for a few of my chips which were perfectly cooked. I personally didn't like the dish as much as my mussels but my partner thought it was really very good.
For dessert I had the Chocolate and Marmalade Tart (£6) which was served warm with an anglaise sauce. The flavour of the chocolate and orange was perfectly balanced and one of the nicest chocolate tarts I have ever had.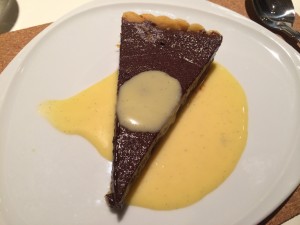 We had a fantastic meal at Fish and love the aim of working with everyday fish and making it fabulous.
We will definitely be going back soon!