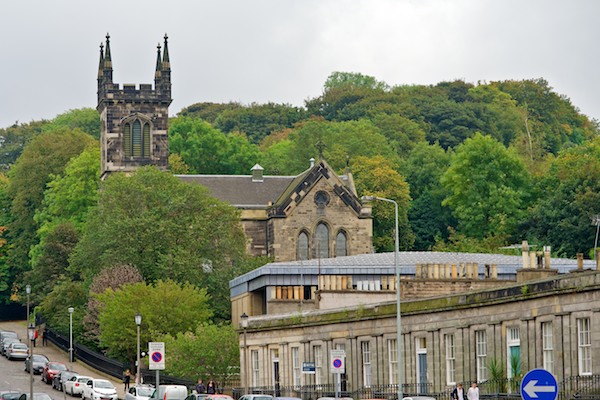 Here and There: Claire from the Scottish Book Trust will lead a discussion about newcomers' experience of Scotland in comparison to their home countries. An opportunity for migrants and local people to share stories and perhaps contribute to a book by the Scottish Book Trust!  Also a chance to hand draw your own map of Edinburgh. This event is part of a regular newcomers' conversation class run by The Welcoming. 2.15-4.15pm, St John's Church Hall, Princes Street. All welcome: free.
Current Exchanges: Weavers Tour with curator Ben Divall. Tour around the balcony with Ben Divall, weavers from Dovecot and visiting weaver Sue Batten from Australian Tapestry Workshop. Learn more about the historic links and ongoing collaborative projects between both institutions and the techniques and processes involved in creating the tapestries currently on show from Melbourne and Edinburgh. 6-7pm, Dovecot Studios, Infirmary Street. Free but please book via eventbrite.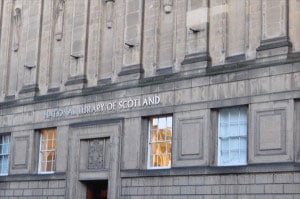 National Library of Scotland Guided Tour: tour of the building and introduction to the Library's collections and history. 10.30-11.45am (approx), National Library of Scotland, George IV Bridge. Numbers limited, booking essential. Book online or call 0131 623 3734. Please let NLS know of any special access requirements.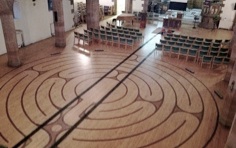 Reflect on the Referendum: Polwarth Church (a polling station on 18th September) is open all day today for those who wish to contemplate their decision. You can walk the church's labyrinth, light a candle as an act of hope for the future or just sit quietly and think. 10am-6pm, Polwarth Church, 36-38 Polwarth Terrace.
Rushman and Tyman: Stop Thief! Rushman and Tyman's Flaghall, one of the works in the Where Do I End and You Begin exhibition, is a space of potential multiple uses – a community hall, exhibition space or meeting place. As part of Stop Thief! visitors to the exhibition will experience live interventions in the gallery, further exploring the themes raised in this work. 1pm, City Art Centre, 2 Market Street. Free.
Being a Scientist in the UK Today: a lunchtime discussion. A panel of experts will consider what motivates scientists and what pressures they are under, what effects funding and publishing systems are having on the production of high quality, ethical scientific research, whether current methods for assessing the quality of science are working and whether competition in science is a good thing. 12.30-2pm, Informatics Forum, University of Edinburgh, 10 Crichton Street. Book via eventbrite. Free.
Three Female Surgeons: Chris Short will tell the story of three Edinburgh surgeons who refused to accept rejection at a time when women were not allowed to study medicine. Over the course of a century they paved the way for women to join the medical profession on equal terms with their male colleagues. The talk is presented in association with the Words and Deeds, Weapons and Wounding exhibition which is at Napier until 30th September 2014. 4pm, Level 5 LRC, Edinburgh Napier University Sighthill Campus, Sighthill Court. forestFree, but please RSVP to events@napier.ac.uk as places will be limited.
Lunchtime Concert: Will Pickvance – Piano Speak. 12.15pm, St Giles Cathedral, Royal Mile. Free.
Free The Technics Two: vinyl session, 'Not only do we demand a revolution we can dance to, we want to dance to our own tunes.' 4-7pm, Forest Cafe, 141 Lauriston Place. Free.