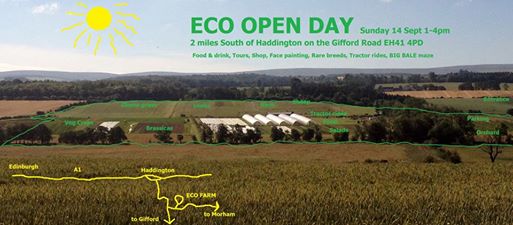 If you care about your food – and you'd like a fun day out – head to Haddington this Sunday afternoon for East Coast Organics annual Farm Visit.
There will be hot food and drinks (organic, need we say…), an organic market stall, face painting, tractor trailer tours, walking tours, kids' corner with small animals, information stand with goats and Kunekune pigs, pick your own pumpkin, guess the weight of the pumpkin, geese, ducks, hens, rare breed sheep – and lots more. Tour the new orchard and try an apple; see the new polytunnels and crops, PLAY ON A JCB DIGGER!!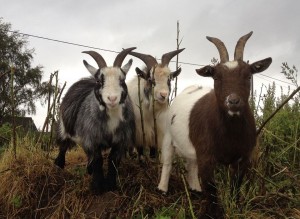 The team advise that you bring a cool box if you plan to buy produce, and your wellies – just in case. If you play an instrument, bring it and make some music.
This is a yearly event to thank everyone who has believed in and supported East Coast Organics over the past 18 years; all members, friends, customers and anyone interested in sustainable food production is welcome. ECO operate a box delivery service of organic produce (including eggs and bread), which can be dropped off at your home, office or other drop-off point.
The farm is only 20 miles from Edinburgh or 7 from Longniddry Station.  There are also lots of buses from the city to Haddington. From Haddington head south to Gifford for 2 miles, then take a left to Morham (will be signposted) and the farm is 300m on the left. The farm anticipates around 1,000 visitors.  They have plenty of parking but ask people to car share if possible, or even cycle.
The farm's address is ECO Farm by Haddington, EH41 4PD (please note the Eco Day is not at Boggs Holdings) and the Open Day will run from 1pm to 4pm on Sunday 14th September 2014. For more information about ECO click here.