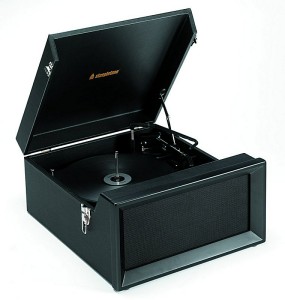 One of the signs of modern living was brought home to me on Father's Day a few weeks ago. My daughter Laura kindly bought me an ITunes music voucher with which I can download music off the internet. Grateful though I was, I couldn't help but think that Laura and her younger sister Michaela may have missed out on something that stirred excitement in their father in the days when I was half the age they are now – buying records. Not cds and their featureless format – but vinyl in all its glory.
This year the seven-inch single is 65 years old. Yes, indeed, the single is now pensionable age. I was just three years old in 1965 when my father bought me my first record – Get Off My Cloud by The Rolling Stones. I was transfixed when he put it on the Dansette record player and music blared out from the small speakers – much to the annoyance of my mother. It was the beginning of a habit which lasted for at least another two decades.
There was a thrill about poring over the latest releases in music shops. The seven-inch record itself was something of an art form with record labels such as Decca, Atlantic, Colombia and Fontana. The Beatles had their own Apple label although the only Beatles single I ever bought was Hey Jude in the late 1960s when I lived just outside Glasgow. The anticipation of putting the stylus (get grandad here!) on the vinyl and hearing the initial scratching noise before the music began was palpable for a youngster in the late 1960s/early 1970s. And putting ten records on the shiny silver pole with the plastic arm in place to ensure only one record dropped to the turntable at a time was something of an achievement – especially if no more than one record dropped at once and they still played okay on top of each other. Some records had different centres which meant this didn't always happen and the consequence was your much-anticipated record made a slow, horrible grinding sound which made you dash to the record player to save your precious disc (The Who's My Generation doesn't have quite the same impact when it's played at less than half the speed it should be)
The added bonus about the seven-inch single was the 'B' side although I rarely met anyone who played 'B' sides more than once. Some artists brought out a 'double A side' meaning, in effect, you got two hit songs for the price of one (that was the theory in any case)
Now today I'm aware that vinyl is making something of a comeback and there are still outlets in Edinburgh such as FOPPS, Ripping Records and Avalanche Records where you can still browse through various vinyl recordings although I find that these are a smidgeon more expensive that cds. For the most part, cds still dominate record stores. In our fibre-optic high-speed broadband age, downloading on to laptops and mobile devices is the done thing.
Music may be digitally recorded these days and the ability to download without even leaving your home reflects the technological age we now live in. But many of my generation will never let go of their lovely old vinyl discs. True, mine are up in my daughter's loft in a psychedelic record carrying case gathering dust. Alongside the old record player. But they're still there, a comforting sign of a more innocent by-gone age.
Now, I wonder if my mother still has her old radiogram….