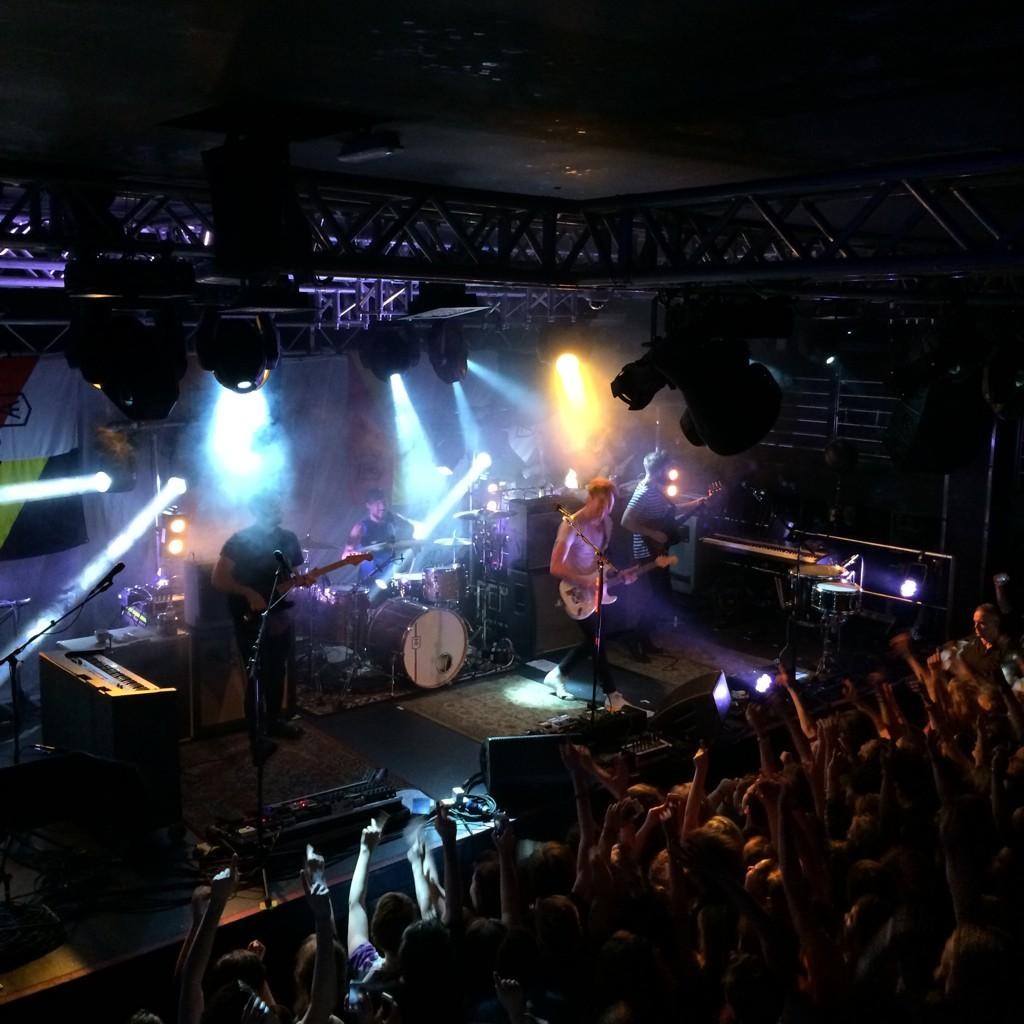 Photo by Craig Mitchell
Ever since 2008, the Glaswegian outfit have been on an impressive trajectory supporting the likes of Blink-182 and My Chemical Romance; while even being personally sought out and invited by Smashing Pumpkins' ex-drummer, Jimmy Chamberlin, to support the illustrious alternative rock band at their Glasgow arena show. So after rising to significant heights due to the unprecedented yet highly deserved success of their previous album, Free, Twin Atlantic are back.
Attempting to "claim indie rock domination" while playing at Edinburgh's petite Liquid Room is perhaps nonsensical, but a pre-tour always brings out the main surprises which are songs that will probably not be played again in the main tour. Unusually, the band brought out more Vivarium material and even a song that hadn't been played in two and a half years: 'Caribbean War Syndrome'.
The new songs were what the hardcore fans – who were placed at the front after queuing since early afternoon – wanted to hear. Twin Atlantic brought out five songs from their new album (out next Monday), Great Divide, and the crowd didn't shy away or show any sort of apprehension towards the new songs. 'Brother and Sisters', with its You Me At Six-esque chorus, had the crowd up in arms and harmony, while 'I Am An Animal' and 'Heart And Soul' received a riotous crowd reception. 'Fall Into the Party' essentially repeats the method of how Twin Atlantic rose into commercial success in the first place but more harder hitting. Free was essentially playing it safe to gather Radio 1 plays, Great Divide is perhaps branching out and seeing where the route takes them – by rolling out their various hard rock influences and combining them into one.
Sam McTrusty couldn't emphasise his admiration for Edinburgh enough – constantly stating how emphatic the crowd were and how beautiful the capital city is. Their version of 'Crash Land' being hailed as the best version they've ever played live, as McTrusty was drowned by the boisterous voices of the Edinburgh crowd. The band returned the energy of the crowd by putting in an ecstatic performance, while constantly egging the crowd to up their game.
After selling out two gigs at the Barrowlands in their home town of Glasgow in an hour while performing at some other legendary venues in the UK on the same tour in October, Twin Atlantic are evidently on a path to what You Me At Six have achieved – but with more credible and less monotonous music under their belt.