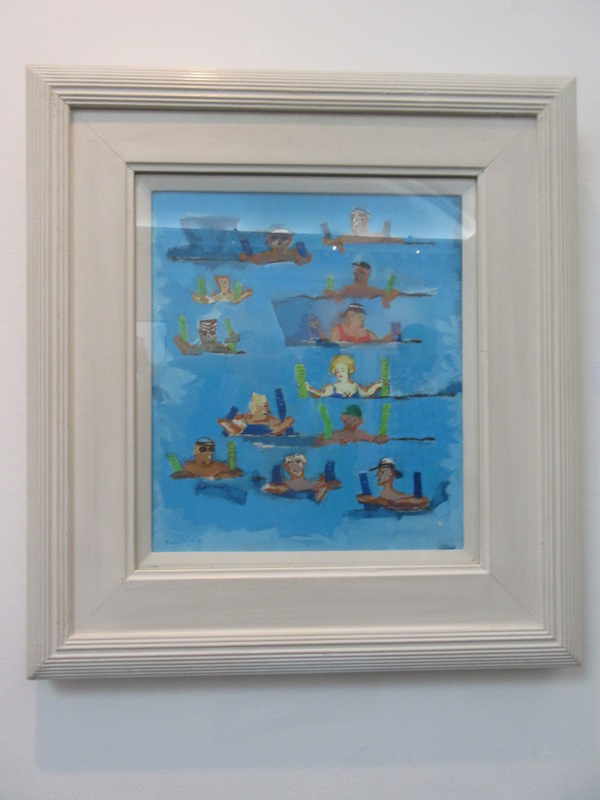 'When I first encountered Art in Healthcare' says renowned artist Barbara Rae 'it was 'just' paintings in hospitals.  Now it is so much more.'
Barbara, who has recently taken over as patron of the charity, is speaking at the opening of a new exhibition, The Healing Power of Art, at Atticsalt Gallery in Thistle Street. The show includes works by internationally famous artists – Adrian Wisniewski, John McLean, Kate Downie, David Michie and Barbara herself are but a few – and also showcases outstanding new talents such as Leo du Feu, Heather Pugh-Black and Matthew Wilson.  Ann Oram's delicate Olive Trees, Italy, with its snowflake blossom falling from light green trees, contrasts with the primary colours of David Michie's entertaining In the Fitness Pool with Noodles. Matthew Draper shows beautiful landscapes, their swirling pastels and light-filled images reminiscent perhaps of Turner's later works: Draper's Nocturne is especially moving.
Kate Downie's fascinating Monsieur Braque's Allotment and her Elm House triptych, both drypoint etchings, are just two of the highlights of an outstanding exhibition.  The soft colours and mysterious bird-like shapes of June Redfern's subtle Gloaming are executed in luxuriantly thick brush strokes, whilst Leo du Feu's lovely Blackness Castle displays his mastery of watercolour – the purples, pinks and yellows of the beach lying still below a turbulent grey, blue and white sky (and a bird, of course.)  John McLean's Masolino, Whirligig and Moonbeams are stunning examples of what Jeffrey Camp has called his 'every young, ever colourful, ever colour-loving, surefire abstract (art)'
The Executive Director of Art in Healthcare, Trevor Jones, explains that the charity's collection now holds about 1,400 pictures.  Everything in the show is for sale, and he hopes that a good sum will be raised to enable AiH to build up its funds, support more artists, purchase more works – and most importantly, put these on display.  As Barbara Rae points out, hospital walls are covered in notices and instructions – it is immensely humanising and calming for patients, staff and visitors to see some art instead.
Of late the charity has worked particularly hard to distribute its collection across the whole of Scotland, and has also developed a digital platform – the website has been viewed over 50,000 times in the last 12 months, and smartphone users can now use the online portal to find out more about a picture whilst they are standing right in front of it.  AiH manages NHS Lothian's own art collection and is talking to three other health boards with a view to helping them care for and maintain their collections. Barbara Rae hopes that the charity will eventually be able to look after the art in all Scottish hospitals.
The outreach work undertaken by the charity has taken off over the past two years; it now runs many workshops in hospitals, care homes, special schools and sheltered housing centres, often working alongside such organisations as Alzheimer's Scotland, the Children's Hospice Association Scotland, Contact the Elderly and Wester Hailes Health Agency.  Artists and volunteers use pieces from the collection as an inspirational starting point for clients' own work, and an annual exhibition of participants' art is another important feature of the charity's calendar.
AiH also runs the innovative Adopt an Artwork scheme, which supporters can join for as little as £3 per month, and sells limited edition 'Prestigious Prints' commissioned specially from renowned Scottish artists. At present thirty prints of Insignia for the Little White Horse by the late Alan Davie (Barbara's predecessor as patron of AiH) are also available, having been generously donated to the charity by the University of Edinburgh.
The charity depends significantly on its funders and benefactors.  A recent and exceptionally generous grant from The Morton Charitable Trust will, says Barbara Rae, help Art in Healthcare to expand and move on, and Trevor Jones joined her in thanking the Trust for its much valued support. Trevor also expressed the charity's gratitude to Graham Russell, owner of AtticSalt Gallery, for hosting the exhibition.
The Healing Power of Art is a most impressive and enjoyable exhibition: do take time to see it – you may just come away with a beautiful work of art, and even if you don't your day will have been immeasurably enriched.
The Healing Power of Art is open on Fridays (10am-5pm), Saturdays (12.30-5pm) and Sundays (12 noon-5pm) until 31st August 2014.
For more information about Art in Healthcare, see the charity's website and its Facebook page.