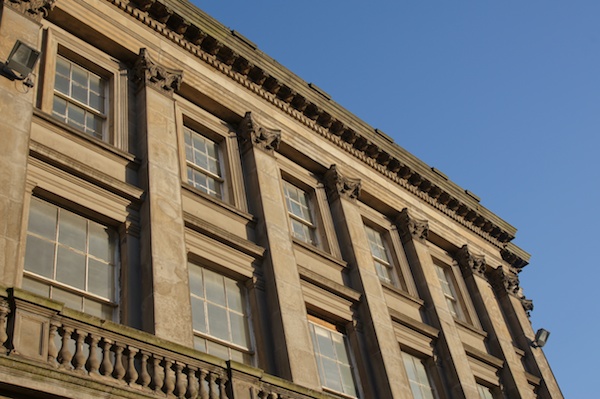 Tickets on sale today for God Help the Girl at Corn Exchange
Culture Hour
Portobello High at the Jazz Festival
At Cabaret Voltaire tonight
Edinburgh's Police Boxes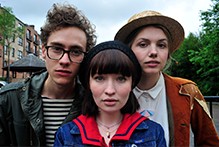 Tickets go on sale today at 12 noon we are told by the lovely people at Edinburgh Corn Exchange who are very excited about this event they are hosting in August.
Sundance Award-winning musical feature film GOD HELP THE GIRL, in partnership with Edinburgh International Film Festival (EIFF), will premiere live in UK cinemas via satellite on Saturday 16 August 2014 from Edinburgh's Corn Exchange with the cast and Stuart Murdoch lead singer in Belle & Sebastian in attendance.
Following the film's screening, the group will be live on stage playing their own songs and songs from the film (with the 'God Help The Girl' singers). The film will be released nationwide on 22 August through Metrodome Distribution.
GOD HELP THE GIRL is a coming of age tale set in Glasgow over the course of one hazy summer.  Written, directed and with original songs by Stuart Murdoch, lead singer of the group Belle and Sebastian, GOD HELP THE GIRL is a story of a young girls problems entering adult life, uniquely told through a soundtrack of indie pop. GOD HELP THE GIRL stars Emily Browning (Sucker Punch, Magic Magic), Olly Alexander (Great Expectations and forth coming The Riot Club) and Hannah Murray (Skins, Game of Thrones) and was produced by twice Oscar-nominated producer Barry Mendel (Rushmore, The Royal Tenenbaums). The film premiered at the Sundance Film Festival 2014 and was awarded a special jury prize at the festival.
GOD HELP THE GIRL will be launching UK wide with a special live satellite screening across UK cinemas on 16 August 2014, followed by a nationwide release from 22 August 2014.
CERT: 15     RUNNING TIME: 111 minutes
***
On Twitter this evening between 7 and 8 pm there will be a #çulture hour preceding the #culturesummit. The Edinburgh International Culture Summit takes place later in the summer, when they will discuss the theme Culture – a Currency of Trust.   This evening is an opportunity for any one to get involved to share their thoughts and open up the debate.
These are the questions to be answered
#CultureHour questions:
What are the cultural activities and creative opportunities that makes your city unique? #culturehour #culturesummit
How can cities of the future be an exciting collaboration between technology, creativity and design? #culturehour #culturesummit
Which cities do you think have the strongest cultural identity and why? #culturehour #culturesummit
***
After a very successful Cabaret night in February, Portobello High School's jazz musicians and singers received an invitation to perform at the Edinburgh Jazz and Blues Festival. They will be performing at the Tron Kirk on Saturday, 19 July at 10.30 am. Their programme will include songs from the Great American Song Book as well as some Blues from The Nomads. Tickets (£2) will be available at the door. If you fancy a coffee and some music on a Saturday morning, they would love to see you!
***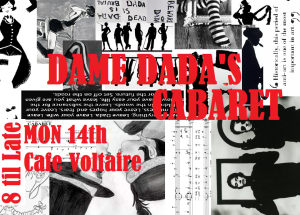 At Cab Vol tonight…..
Join Dame DADA and her Doll's as they explore the dynamics of Cabaret, through an immersive night of live installations and bursts of song, comedy, dance and music.

Cafe Voltaire will be transformed into Dame DADA's cabaret dungeon for one evening on   14 July 2014 with the night beginning at 7.30pm.

This is Eclectic Impact's relaunch of the popular and groundbreaking form for exhibitioning contemporary artists and practitioners in and around Edinburgh.
Check out DADA Edinburgh's facebook page for more information about our ethos and how to get involved with the nights.

DADA Edinburgh is completely FREE as always and all we ask is that you spread the word amongst everyone you know to get show the buzz and talent amongst the contemporary arts community.
***
Built in 1933 across the city our police boxes are now underused by the police who no longer need someone to phone in to HQ. We have a selection of photos on our storyboard here on EdinburghReportage, but we need your stories about them.
Were you a police officer or do you know someone who was, and who used them? We would love to have this little bit of history kept alive.