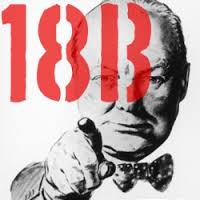 ZOO Venue 124    Tickets: £8, concessions £6       Dates: Aug 1, 3, 5, 7, 9, 11,   13, 15, 17, 19, 21, 23, 25      Time: 15:45
Held in prison without trial for six weeks, three women await interrogation. This isn't Germany. This isn't Russia. This is England.
Two government officials, Charles Lyon-Jones and William Thompson, interview three women as part of a disciplinary hearing under Regulation 18B, a government decree which suspends British citizen's right to a fair trial during wartime. Lyon-Jones is young and eager, believing wholeheartedly in his task to protect the British state against fascism, whilst Thompson takes a more cynical view of this apparent transgression of justice. Tensions between the interrogators boil over as they face the eternal predicament of what is necessary, and what is right, in a time of war.
Exploring the little known wartime defence regulation that arguably undermined the fundamental democracy of Churchill's Britain, 18B exposes moral questions over a period of history honoured in the textbooks. The three women; a charming fascist, an eccentric outsider and an apparent German infiltrator, force their interrogators to question the measures we resort to in the protection of state and nation.
18B is an innovative, compelling and challenging new perspective on our nation's history written and created by Nottingham University students with a central background in historical research.
The Nottingham New Theatre prides itself in being the only entirely student run theatre company in England. It is a fresh and exciting performance company that produces exceptional new writing and has won multiple awards at the National Student Drama Festival. 18B is in consideration for the National Student Drama Festival 'Edinburgh Award' 2014.