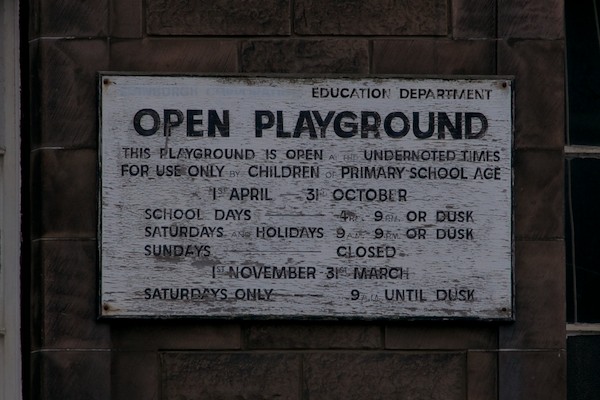 Edinburgh schools have broken up for summer and the parents among you may be wondering how to keep that awful phrase "I'm bored!" at bay.
Edinburgh Council, which offers a wide choice of entertaining and educational activities for children and young people, has created a 'best of' list to help families stay occupied on a budget.
Councillor Richard Lewis, Culture and Sport Convener, said: "The summer break is a chance for families to get together and try something different but it is also a challenge to keep the kids entertained without breaking budgets. Whatever the weather, there will be a host of activities and events taking place across Edinburgh this summer, many of which are free.
"With the Commonwealth Games taking place in Scotland, there is the added excitement of trying new sports and learning about our fellow Commonwealth countries, and highlights to look out for this summer are the Active City sporting exhibition at the Museum of Edinburgh and the many one off sport classes at Edinburgh Leisure venues."
WHAT'S ON AT MUSEUMS
First on the list of things to do is a visit to the Museum of Edinburgh  on the Royal Mile. Housed in the beautifully restored 16th Century buildings on the Canongate, it is the city's principal museum of local history and from 5 July, will be home to a brand new exhibition looking at sport throughout the ages in Edinburgh.
With special activities for children, and a focus on the Commonwealth Games, the Active City – Celebrating Edinburgh's Sporting Heritage exhibition  is ideal for kids who are excited for Glasgow 2014, and to coincide with the exhibition there will be a special come and try sports challenge in the museum courtyard for children on 10 July.
Also on the Royal Mile, the Museum of Childhood   hosts a treasure trove of toys the whole family will love. Children can learn what it was like to grow up in other eras and gaze at a range of toys and games, while adults can enjoy a trip down memory lane.
The latest exhibition to open at the Museum is a display of posters created by children for the annual Fringe Festival Children's Posters Competition . This competition has been an annual event for the Fringe Festival since 1980 and this year's competition received 3,453 entries from 144 schools across Scotland.  The winning designs and runners up can be viewed at the Museum until 31 August 2014.
EDINBURGH'S LIBRARIES
As always, it will a busy summer across Edinburgh's 28 libraries, with lots of free events.
The Summer Reading Challenge encourages children aged 4 to 11 to read six books during the long summer holiday. The theme for the 2014 Summer Reading Challenge  taking place in all libraries across the city will be Mythical Maze created by top illustrator Sarah McIntyre.Children can read whatever they like – fact books, joke books, picture books, audio books – just as long as they are borrowed from the library.
Every time children finish a book they get stickers and rewards and there's a certificate for everyone who finishes.Mythical Maze challenges children aged four to eleven to find their way around a labyrinth that introduces them to fantastical creatures from the world of legend and mythology, collecting stickers of each character along the way.
Central Library has a brand new dedicated Children's space with lots of new books, cubby holes to read them in, an under 5's room and an arts and crafts area. Budding musicians can practice in the new music Library's acoustic pod or on the digital piano.
South West  Edinburgh Libraries are celebrating the Commonwealth Games with their Summer of SportProgramme which will  host sport themed activities for local children including the chance to have Good Luck cards delivered to the athletes in the Commonwealth Village.
Need holiday reading but want to keep your suitcase light? Edinburgh Libraries provides free to use ebooks, audiobooks and  downloadable magazines for children and adults. Visit the Edinburgh Libraries' website for further details of special holiday events.
ART IN THE CITY
This summer, families can also get stuck into crafts through the Edinburgh Art Festival . Launching on 31 July, a host of children's workshops will be held in the City Art Centre .
The Centre also has a busy programme of Street Magic Master Classes up until 4 July as part of Edinburgh's International Magic Festival . Classes range in price and places can be booked through the festival websites.
STAYING ACTIVE
To help keep kids active, Edinburgh Leisure  is offering a host of activities to enjoy throughout the holidays, including fantastic free Multi-Sport sessions . Youngsters aged 5-16 are invited to try football, gymnastics, tennis, boccia, athletics and much more at the Meadows every Wednesday and Friday afternoon from 2 July – 8 August. Kids will benefit from support by qualified coaches and local sports clubs. There's no need to book, visitors can just drop into The Pavillion Cafe, Jawbone Walk in Edinburgh's Meadows.
From June 28 until August 12, Edinburgh Leisure is also offering free swimming all day to all primary school children at Dalry, Gracemount and Ainslie Park Leisure Centres. There will also be free swimming available between 12:00pm-3:00pm at Wester Hailes Education Centre. Following a successful Easter initiative, this year marks the first time the free summer sessions will be open to any public swim session at participating pools.
In good weather, the beautiful grounds of Lauriston Castle, laid out by William Henry Playfair in the 1840s, hold over 300 trees and are worth a wander – especially on 29 July when children are invited to visit and learn how to identify each one. Entry is £5 per person. Guided tours of the Castle take place every day at 2:00pm except Friday and the Castle has a huge programme of family activities throughout the summer which can be booked through the Usher Hall .
After taking in the city, where better to enjoy the breathtaking views of Edinburgh than by climbing to the top of the tallest tribute to a writer in the world, the Scott Monument  in East Princes Street Gardens. Equally impressive is the Nelson Monument  on Calton Hill.
And just in case you need to know Edinburgh schools begin the autumn term on 13 August 2014. All other term and holiday dates are here.