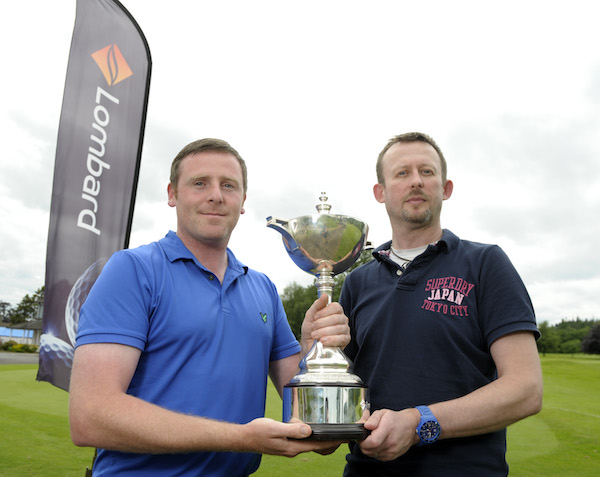 HAGGART MADE TO PLAY WAITING GAME BEFORE SEALING FINAL SPOT
Kevin Haggart, an amateur golfer from Edinburgh had to endure a tense hour's wait before confirming his place in the Lombard Trophy Final at Gleneagles.
Haggart teamed up with Musselburgh PGA Professional Norman Huguet for the Regional Final at Crieff Golf Club.
The pair carded an eight under par round of 63 in the Pro-Am event staged at the Perthshire course.
But they were matched by Derek Watters and James Wall of Renfrewshire's Gourock Golf Club.
However, it was the Musselburgh pairing that won on countback after carding four successive birdies on the back nine.
Haggart and Huguet will now play in the £43,600 final over the King's Course at Gleneagles between September 2-3 – just three weeks before the Ryder Cup is held at the same venue.
But Haggart, who works for an engineering consultancy, admitted the wait to find out who had won tested his nerves.
"It was a tense wait for us of about an hour," said the 43-year-old who plays off a handicap of 11.
"We came in ahead and I could see our score had been tied while I was on the phone in the car park. Then it seemed to take forever to work out which of us had won.
"But it was us and I'm really delighted about it. I've never played a Pro-Am of any kind before, so to not only win but get to the final at Gleneagles is fantastic."
Haggart took a 20-year break from golf but returned to the sport four years ago.
"I'd played Crieff in the past, but once I got out there, I realised I couldn't remember a thing about it!" he said.
"I was just thinking about getting past the first hole without making an idiot of myself. I've played the Queen's Course at Gleneagles, but not the King's Course, so it'll be a great experience."
Huguet has never reached the final before and praised Haggart's contribution.
"We got four birdies in a row between the 14th and 17th holes and that won it for us," he said.
"But that was down to my amateur partner choosing his shots wisely."
Huguet hopes that his familiarity with Gleneagles counts in their favour.
"When it comes to the final, I'll probably have played there more than most," he said. "I was there for the Scottish PGA event this year. So I hope it gives us the edge."