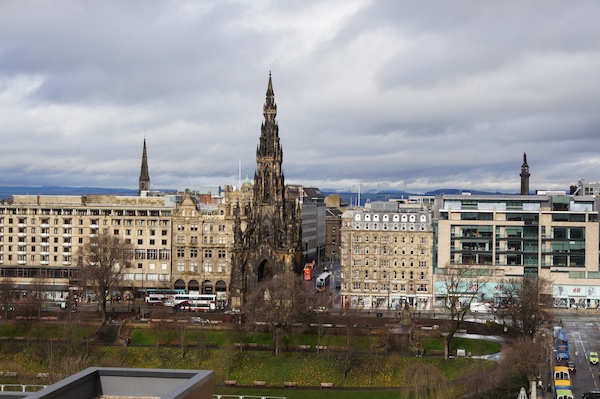 Girl hit by tram – Edinburgh Short Film Festival – Edinburgh Festival of Cycling – Vintage Dance Night in Musselburgh – Today at Summerhall
A 14 year-old schoolgirl was hit by a tram while standing on a central reservation on Princes Street around 5pm last night.
Police Scotland are investigating the on-board CCTV footage of the incident.
***
The Edinburgh Short Film Festival starts tomorrow. This year the festival will screen 58 short films, representing filmmakers from 18 countries around the world. The programme includes 26 UK premieres and the world premiere of 'Unbearable' by Khaliq Akbar and 23 award-winning films.
***
The Edinburgh Festival of Cycling gets rolling next week and you are encouraged to book now for one or more of the many events that are organised for the ten days between 12 and 22 June.
The Edinburgh Reporter interviewed Festival Director Kim Harding here:-
***
Dancers in Musselburgh can get in the swing of fundraising for Barnardo's Scotland at a Vintage Dance Night at The Brunton's Venue 1 on 28 June. Whether you're a 'strictly' or more of a 'stumbly', come along and learn the popular dances of the 1920s and 1930s in what promises to be a fun-packed night for everyone.
The Eliot Murray Big Band will transport ballroom and swing fans back in time at the event, with the Fly Right Dance Co leading the way to make sure even the beginners among you stay in step, and Barnardo's Scotland will benefit from twenty per cent of ticket sales and all proceeds from the raffle on the night.
Organiser Sharon Horsburgh promises dancers a great night and masses of space on The Brunton's "huge and swanky" new dance floor. She says: "It's time to get dressed up, put on your dancing shoes, and come along for a fabulous night of fun raising money for a great cause."
Tickets are £15 from the website or telephone 07704 874161
***
Today and tomorrow at Summerhall there is a free exhibition in the Small Animal Hospital.
"North is an installation in Summerhall's extraordinary Small Animal Hospital. Somewhere between play and short story, between visual art and theatre, it explores what it is like to live in the extreme light conditions that exist beyond 60 degrees latitude North. It is a journey through rooms filled with coloured sunlights and darknesses. It also presents the diaries of a lost lighthouse keeper found in Lerwick December 2013, when Clare, one of the dissection room artists in residence, was researching this project."
Summerhall have just announced their programme for the Fringe – and the Fringe programme itself is launched this morning… more of that later!