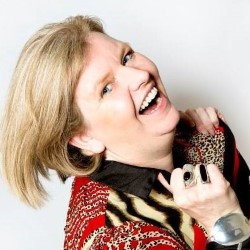 Just back from performing stand up for the troops abroad, Scottish comedian, actor, writer and broadcaster, Jojo Sutherland, is gearing up for a triple whammy of shows at this year's Edinburgh's Fringe.
Starting on 30 July and running from 1.30pm – 2.30pm, Jojo's first daily appearance will be at the Assembly Rooms in a play entitled, 'A Split Decision', written by Keir McAllister and directed by Gowan Calder. The play is about independence in Scotland with Jojo playing a leading role
Following the huge success of Juliette Burton's first  show 'When I grow up', which toured world-wide, Jojo is also directing the follow up docu-comedy which will be performed every day at Gilded Balloon between 2.45pm and 3.45pm, entitled 'Look at me!'
Jojo will also perform her own solo show every evening from 6.25pm till 7.25pm at the Beehive, entitled 'JOJO SUTHERLAND – IN CONVERSATION.'  Jojo's colourful and extremely eventful life will be laughed about from castle and caviar to caravan and cabbage, through bankruptcy, round repossession into stand up via a brain haemorrhage – her rollercoaster life will all be revealed!
In between performing and directing at the Festival, hosting 'Stand up and Be Counted' workshops on days off for Scottish businesswomen and bringing up her four children, Jojo will also continue with her hectic schedule of stand-up performances in various clubs throughout August including The Stand Comedy Club.
Jojo said: "Like many other comedians, I am literally counting down the days to this year's Festival.  There are so many great acts and names attending this year and it's fantastic to be a part of it.
"A Split Decision is guaranteed to get a reaction from the audience with the referendum merely weeks away – it might even help people decide either way.
"I'm really excited about my autobiographical show, 'JOJO SUTHERLAND – IN CONVERSATION' where I reveal some true events in my life, some funny, some poignant, some downright tragic but all told with the same humour that has brought me to where I am now, very nearly happy!
"One day I could be doing the rounds at the school parent's night and the next in an armed forces base half way round the world performing to the military – life is never never dull!"
Check out Jojo's movements from now until August and during the Festival at www.jojosutherland.co.uk