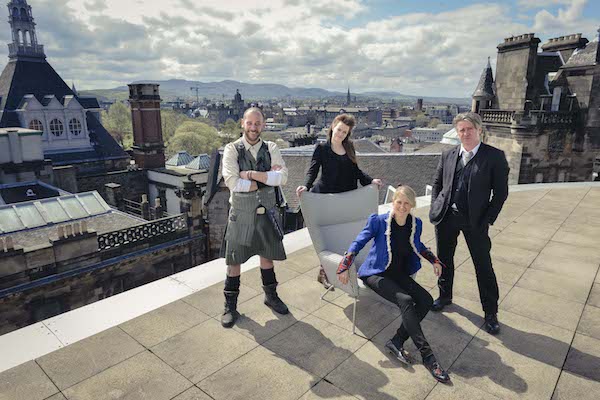 The Edinburgh Reporter has been wondering what was going to happen after Missoni decided to take its name back from the hotel on George IV Bridge. We passed by the other day when the sign at the front door was being changed, but the workmen would not divulge what they were changing it to!
The Carlson Rezidor Hotel Group has now announced that Edinburgh's city centre, five-star Hotel Missoni Edinburgh will be crowned G&V Royal Mile Hotel.  Under its new name, the unique property will also join Quorvus Collection, a new generation of expertly curated luxury hotels in Carlson Rezidor's growing global portfolio. The G&V Royal Mile Hotel has also announced a number of exciting developments to come, including working with familiar faces of the Scottish design world.
The new name, G&V Hotel, is an abbreviation of George & Victoria and gives a proud nod to the area's royal heritage and the hotel's enviable location in the heart of Edinburgh on the corner of George IV Bridge, Victoria Street and The Royal Mile.
As well as announcing a new name, the hotel also confirmed it will collaborate with a trio of local Scottish design talent including innovative Edinburgh-based fashion designer Judy R Clark, leading Glasgow-based design legends Timorous Beasties, and local kilt king Howie Nicholsby.  The designers will all work with the hotel to reveal new, modern Scottish inspired uniforms, crockery and linens.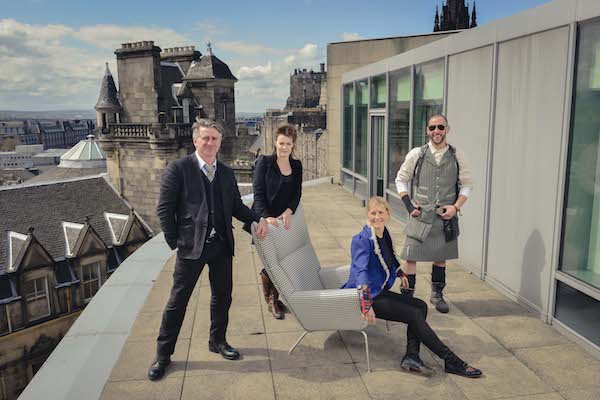 The hotel will remain a design hotel at heart and all of the unique and much loved interiors, style, ethos, strong management team, staff and friendly 5-star service will not change, with a continued pride in its bold, beautiful design beginnings.  Award-winning restaurant Cucina will remain at the heart of the hotel and will continue to serve some of the finest, authentic Italian cuisine in the city.
Testament to the hotel's enhanced luxury offering, the property is also set to unveil an exclusive guest lounge this summer, which will provide five-star luxury with enviable views across the city of Edinburgh.
Carina Svensen, G&V Royal Mile Hotel's General Manager, said; "G&V Royal Mile Hotel will embody modern, yet relaxed luxury.  Along with our fantastic team here at the hotel, I'm looking forward to the journey ahead, enhancing the guest experience, drawing on local character, culture and home-grown talent, as well as making the most of our privileged location.
"To be working with local Scottish design talent Judy R Clark, and Howie Nicholsby on our new uniforms and Timorous Beasties on our new crockery and linens, is truly exciting for us, and we're sure all of our guests will be just as excited when we reveal the new designs in summer.  We've no doubt our kilted doormen will be attracting even more attention when we unveil our new, unique bespoke kilts too!"
After five successful years working in partnership with Missoni, the fashion brand and Carlson Rezidor Hotel Group will cease to work together, in line with their individual long-term business strategies.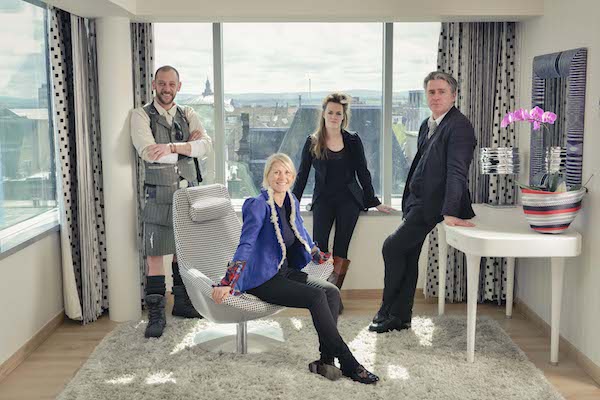 Quorvus Collection name originates from the Southern sky Corvus constellation featuring the five brightest stars. It is inspired by the lifestyle and sensibilities of the contemporary global traveler. Member hotels are historic landmarks, contemporary residences, classic boutiques and urban retreats – all different in scale, architecture, ambiance and design, yet committed to the same, unparalleled service philosophy. Quorvus Collection has a luxury lifestyle value proposition based on a signature suite of hallmark services. The holistic "Q24" concept targets both body and mind, and focuses on six core elements: wellness, replenishment, style, inspiration, entertainment, and connectivity.
As it joins Quorvus Collection, the hotel will also become part of the Club Carlson loyalty scheme, offering guests even more benefits.  Club Carlson is a hotel rewards program that allows members to enjoy a collection of services, benefits and privileges, as well as earn free hotel award nights at over 1,000 hotel locations around the world.
Photos show Howie Nicholsby, 21st Century Kilts; Edinburgh designer, Judy R Clark; Carina Svensen, General Manager, G&V and Alistair McAuley Partner, Timorous Beasties