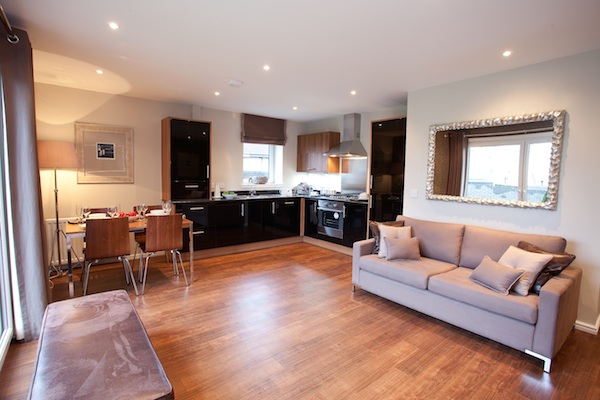 BUYERS ARE SNAPPING UP APARTMENTS AT MILLER HOMES' VARCITY NORTH
As analysts anticipate an increase in property values over the coming months, savvy buyers are snapping up city apartments for a variety of reasons, including investment opportunities or as part of a longer term pension portfolios.
In Edinburgh, Miller Homes' Varcity North development is seeing the effects of this buyer activity first hand, as over one-third of the apartments coming to market have been sold at their early bird release phase
One of the most popular styles is the type 10, a two bedroom apartment with open plan living and kitchen area, an en-suite in the master bedroom and ample storage throughout, including a separate utility cupboard.
The type 10 apartments will be ready to move into from September/October and are available from only £120,800 now, based on a purchase price of £151,000, with Help to Buy (Scotland) assistance, where a 5% deposit would be required and help with up to 20% of the purchase price could be provided from The Scottish Government.
Anne Marie Britton, Sales Director for Miller Homes Scotland said:- "Priced at a very affordable level, Varcity North is an excellent opportunity for people to make their first step onto the property ladder, and for others looking to get a return on investment property.
"There is ample space across the type 10 apartment, making it an appealing buy. As well as open plan living, the apartment's location is perfect for exploring Edinburgh and beyond.
"With over one-third buying off plan, the results speak for themselves on the quality of build and the right mix of properties that are proving to be highly attractive to buyers."
Varcity North is a contemporary development which once completed, will consist of 209 apartments across five campuses. Prices start at £102,000 for a one bedroom apartment through to £179,000 for a three bedroom.
Miller Homes participates in the Help to Buy (Scotland) scheme, which is available on properties up to a maximum purchase price of £400k.
Buyers are expected to contribute a deposit of 5% of the full purchase price, with help of up to 20% of the purchase price from the Scottish Government. Buyers will own 100% of their home under the scheme.
Help to Buy (Scotland) assistance is provided by the Scottish Government and is secured over your new home. YOUR HOME MAY BE REPOSSESSED IF YOU DO NOT KEEP UP REPAYMENTS ON A MORTGAGE OR ANY OTHER DEBT SECURED ON IT.
For more information, go to www.millerhomes.co.uk or call 0808 250 6468.