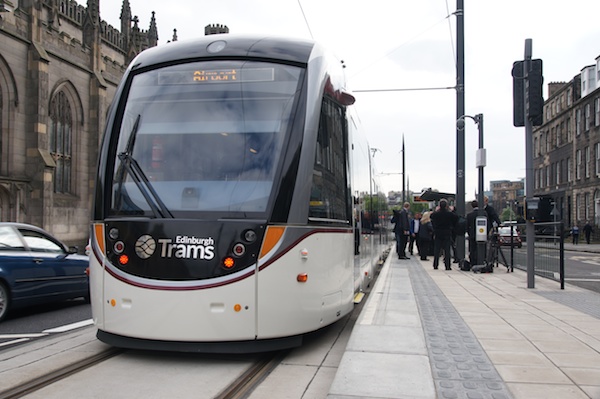 Edinburgh Trams open to the public today –  Sing in the City Choir singing on a tram – Wifi – Tram Rules – Video of VIP guests at the official launch
Yes today's the day – you can now get on the trams! Edinburgh Tram has taken a long time to complete , with an eventual bill of several times the original estimate for a single line rather than a network and a few years behind the original schedule.  but it is there now for you to jump on at York Place and head out to Edinburgh Airport if you wish, or jump on and off at any of the tram stops in between. This is the beginning of an integrated transport system for Edinburgh which the operators say is fit for the 21st century.
The first tram leaves Edinburgh's Gyle Centre at 5.00am this morning, just as this article is published,  and another tram will leave from York Place shortly and we will have photographs later! Remember to get your ticket either from the Lothian Buses app which should be updated by this morning or from a ticket machine.
This is an historic day for the city and so today we are devoting our Five things to Edinburgh Trams.
***
Here is the Sing in the City Choir welcoming the official launch tram back to St Andrew Square yesterday afternoon with the media and VIPs on board.
***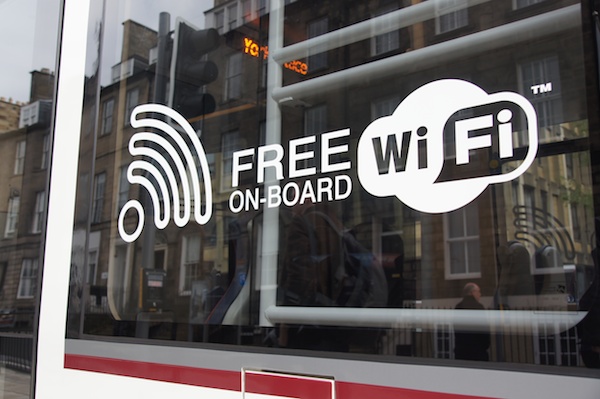 The trams have free wifi on board which will allow you to surf the internet to your heart's content.
***
There are some rules governing what you can and can't do on the tram, in just the same way as there are bylaws for buses and taxis. Most of these are in place for safety reasons. For example no-one should put their feet on the seats, play loud music or cause a disturbance.  If you try to get on with something which is a bit too big or likely to cause injury to other passengers you will be asked to get off!
Most importantly however you must have a ticket before getting on the tram. If you don't then you will be liable to a £10 fine. When the door closing tone is playing then you must not try to get on or off the tram.
No food or drink may be eaten or drunk on the trams. Any hot liquids must be in a sealed container. And anyone going to Easter Road, Tynecastle or Murrayfield may not take alcohol with them.
While there are spaces for wheelchairs and buggies, you may not get on a tram on a mobility scooter, but you can take your folded bike in its carrying bag onto the tram if there is space.
Guide dogs and assistance dogs are allowed on the tram if there is room. All dogs must be on a lead and any other animals must be in a cage or carrying case.
***
During the official launch we met Norman Steven who travelled on the last tram with his father, and the Lord Provost also welcomed one lifelong Balgreen resident onto the tram for the first time. The Edinburgh Reporter is out and about this morning and we hope to bring you photos and video of the trams and the people using them.
Here is our interview with Mr Steven