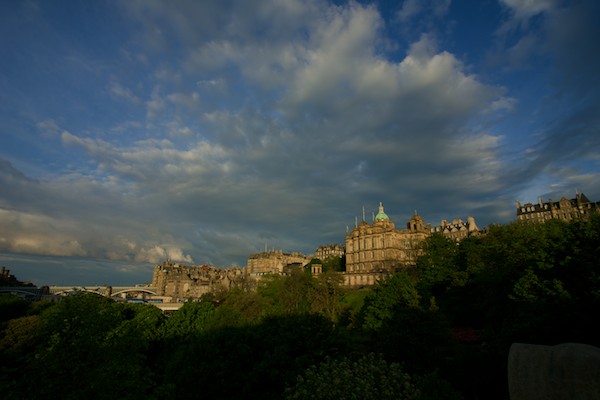 Early morning fire – Talking Whales in Portobello – Design Urban Outfitters window – Putting a stamp on Frederick Street – Favourite cafes
Two people were rescued from their flat after a fire in the kitchen of their home in Harrismith Place, Edinburgh early on Monday morning.
Scottish Fire and Rescue Service (SFRS) crews responded after a 999 call was made at 1.51am and appliances were immediately sent from McDonald Road, Marionville and Tollcross fire stations.
Firefighters wearing breathing apparatus quickly extinguished a chip pan fire within the kitchen and requested an ambulance to attend so the occupants could be assessed by paramedics.
Two casualties, one female and one male, were rescued from the property and received treatment at the scene by the ambulance service.  They did not require hospital treatment.
Group Commander Tam McGrath said: "More fires begin in the kitchen than in any other room of the house and traditional chip pans are a particularly high fire risk. We would urge everyone take a few simple steps to keep themselves and those around them safe.
"By never leaving pans unattended while in use and by keeping any flammable materials, such as kitchen towels, etc., away from sources of ignition, we can dramatically reduce the chance of fire starting.
"Chip pan fires very quickly spread flames, toxic smoke and heat so having early warning is vital to preventing serious injury or worse. There is much less chance of someone being seriously hurt or killed by fire if a house is protected by working smoke alarms.
"Smoke alarms prevent injuries and deaths caused by fire and they also limit the damage to property by allowing firefighters the chance to respond earlier to extinguish the fire. Working smoke alarms provide householders with a very early warning that will enable them to escape the property during the early stages of a fire.
"Crews across Edinburgh and in every community throughout Scotland routinely visit members of the public in their own homes to offer advice and to fit smoke alarms to help them stay safe from fire.
"If you or someone you know could benefit from a visit, please join Scotland's fight against fire and request a visit by calling the SFRS freephone number 0800 0731 999, by texting 'check' to 61611 or by contacting their local fire station."
A wide range of tips on how to keep yourself and your home safe from fire are available on the SFRS website:www.firescotland.gov.uk
***
Councillor Maureen Child tells us about a talk taking place in Portobello :-"The stranding of a young adult sperm whale last year sparked widespread interest in these fantastic big mammals, which we very rarely see since they generally belong in the deep seas.  The Scottish Marine Animals Stranding Scheme's Director and whale expert Dr Andrew Brownlow will give an illustrated talk on the whales of the Firth of Forth at Portobello Amenity Society's Annual General meeting on Wednesday 18 June in the Baptist Church Hall, 185 Portobello High Street at 7.30pm.  All are welcome."
***
Urban Outfitters and the Scottish National Gallery of Modern Art have teamed up in the search for a young artist or designer to create a new piece of window art, to coincide with the Gallery's major summer exhibition GENERATION: 25 years of Contemporary Art in Scotland.  The winner of the Window Art Competition will have their design installed at the Urban Outfitters store on Edinburgh's Princes St, where it will remain on show during August, at the height of Edinburgh's Festival period.
The competition was launched earlier this month, and the deadline for entries has been set for Thursday 29 May. The winning artist will collaborate with the store's display artist to bring their vision to life and create a unique and exciting display which both encapsulates the feel of Urban Outfitter's brand and GENERATION: 25 Years of Contemporary Art in Scotland.
The competition is open to 16-30-year-olds living in Scotland, offering a chance for budding and more established artists to see their work featured in a highly prominent location.
GENERATION: 25 Years of Contemporary Art in Scotland is a landmark series of exhibitions that celebrates some of the very best art to have emerged from Scotland in the last 25 years, and will be shown at more than 60 venues across the country from June to October 2014. This nationwide programme will be one of the most ambitious celebrations of contemporary art ever held by a single country, recognising the huge international acclaim that artists working with Scotland have achieved over the last generation.
As part of this the Scottish National Gallery of Modern Art will mount a ground-breaking, three-part exhibition at Modern One, the Scottish National Gallery and Scottish National Portrait Gallery, offering an unprecedented view of the diverse ways contemporary art has developed in Scotland over the past 25 years.
More than 30 artists will be represented across the three sites, bringing together show-stopping, room-sized installations and iconic works made at pivotal moments.  As well as looking back over the last 25 years, the exhibition shows the continuing dynamism of art in this country, with the inclusion of six newly commissioned installations and several new paintings, drawings and photographic works.
The winner of the Window Art Competition will receive £500 of Urban Outfitters gift vouchers, as well as invitations to the GENERATION opening events.
Closing date for entrants is 29 May 2014.
***
The Post Office on Frederick Street is to remove its external stamp machine, and make the shop counter smaller by forming a private room on the inside. Since this is one post office where queues are regularly made to wait for long periods will this only add to the woes of customers?
***
Got a favourite Edinburgh cafe? Like to share the news with us and our readers? Then tell us about it here….