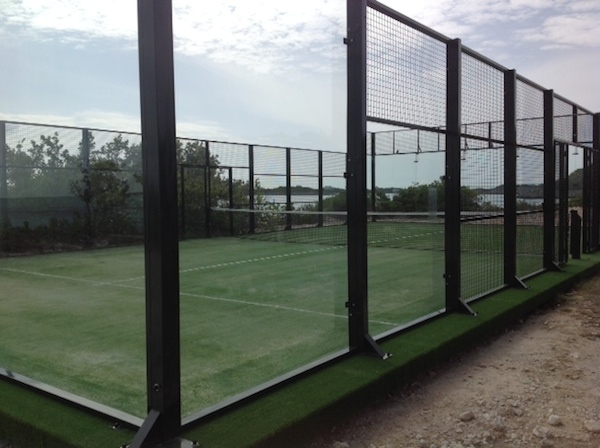 Brodies Champions of Tennis has announced that they are working with Total Padel based in East Lothian, who are going to showcase their first Padel Tennis Court during the tournament.
Padel Tennis is typically played in doubles on an enclosed court about half the size of a tennis court. Scoring is the same as normal tennis and the balls used are similar, however the court has walls and the balls can be played off them in a similar way to the game of squash by payers using solid, stringless racquets. The height of the ball being served must be at or below waist level. The sport was invented in Mexico by Enrique Corcuera in 1969. It is currently most popular in Hispanic American countries such as Argentina and Mexico as well as in Spain, although it is now beginning to spread rapidly across Europe and other continents.
Padel Pro Tour (PPT) is the professional Padel Circuit which was created in 2005 as a result of the agreement between a group of organizers of matches of Padel, the Association of Professional Players of Pádel (AJPP) and the Spanish Feminine Association of Pádel (AFEP). The sport's popularity in southern Spain has exposed it to a large number of British visitors, leading to the increased popularity of the sport in the UK and a launch of the UK Padel Federation in 2011.
Viki Mendelssohn, Tournament Director, said:- "This is a really amazing addition to this year's event and will be a welcome interactive experience for everyone who attends the tournament – hopefully they will have a go and see just how much fun this game is. Padel Tennis is very much a sport in its infancy in the UK but it has a big future. For Brodies Champions of Tennis to be able to showcase the sport with Total Padel is a real coup for us and we are really looking forward to seeing the court in action. I know a few of the Legends have played Padel before so we hope to get them on court and maybe a few members of the public will get the chance to have a game with them!"
Kenny Abbot, Managing Director of Total Padel, said: "We are delighted to be supporting the Brodies Champion of Tennis event this year.  We will have our Tour Court in position at Raeburn Place for the duration of the event for all racket enthusiasts to try out and enjoy. Padel Tennis is a 21st Century sport growing globally and taking hold in the UK this year.  This will be the first 'show court' in Scotland and we couldn't think of a better event to showcase this sport. The sport is enjoyed by Rafa, Novak, Andy Murray, Lleyton Hewitt to name but a few Tennis stars.  Importantly, however, this is an inclusive sport enjoyed by all who step onto the court, from families to professionals."
Tickets for Brodies Champions of Tennis are now on sale at www.championsoftennis.com