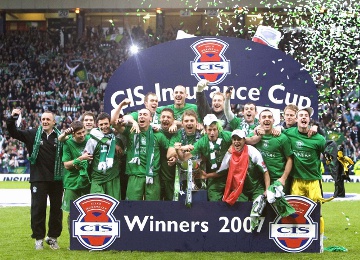 Last week former Hibs' favourite David Murphy formally announced his premature retirement from the beautiful game due to injury. The sad news sparked hundreds of messages of support on social media sites on both sides of the border and David kindly chatted to the Edinburgh Reporter about his time in the capital.
The popular defender said: "I had three and a half fantastic years with Hibs and still watch their games on TV when they are on, and follow their results every week. I actually watched the last derby and was delighted to see Hibs win 2-1 with a late penalty.
"I have many friends in Edinburgh and still visit the city when I get the chance. I have driven past the new East Stand which looks great but I have not seen it from the inside yet although I am hoping to get up and take in a game.
"We had a great team and I honestly think we could have challenged for the league if we had been able to stay together even for one more season, but it was not to be. We were a young and vibrant team that played an exciting brand of football which was started by Tony Mowbray and continued by John Collins and the CIS Cup was one of the main highlights of my career."
The highlight of David's time at Hibs was obviously the CIS Cup win in 2007 and he remembers the cup run well. He continued: "We seemed to have a momentum, beating Hearts at Easter Road in the quarter final then St Johnstone in the semi. I remember that game well as there was a fantastic Hibs' support on three sides of Tynecastle. The game went into extra time and we got a free-kick which I took and thankfully went in although to be honest I thought their keeper should have saved it.
"That of course led to the final against Kilmarnock and over 35,000 Hibs fans took over Hampden. I can honestly say that the support that day was up there with the best I have ever seen and it helped to inspire us to produce a great performance.
"I was lucky enough to play a part in the opening goal as I took the corner and bug Jonah (Rob Jones) got his noggin onto it and the ball flew into the net. The rest is history and the scenes at the end were unbelievable. That was one of the proudest days of my career.
"The shirt I wore that day is hanging on my mother's wall alongside my Birmingham one from the Wembley final where we beat Arsenal. She also has both medals.
"I left Hibs for Birmingham the following season but it was nice to leave with so many memories. In fact had I still been fit, I would have loved to have returned to Easter Road to play for the club that really kick started my career.
"Unfortunately that wasn't to be and I have known for a few months that my injury wasn't going to allow me to continue playing but now I just have to get over the disappointment.
"I have business interests outside football, but I still believe that I have much to offer the game."
David made his Hibs' debut on 7th August 2004 against Kilmarnock at Easter Road in a back four that included Steven Whittaker, Gary Caldwell and Colin Murdoch.
He quickly became a favourite of the Easter Road faithful with his skilful touch and ability to kill a ball arriving from any angle, coupled with his attacking runs down the left wing. He was also a stout defender and few wingers ever managed to get the better of him.
In all, David played 134 times for Hibs, scoring eight goals including a memorable free kick in the CIS League Cup semi-final at Tynecastle to send Hibs on their way to Hampden. He also scored against both halves of the Old Firm in Glasgow and played in two 3-0 wins at Ibrox, setting up Ivan Sproule for the first goal of his memorable hat-trick.
In the CIS Cup Final, it was David's inch perfect cross to the edge of the six yard box that allowed Rob Jones to score the opening goal sparking amazing scenes at the National Stadium.
On 17 January 2008, former Hibs' boss Alex McLeish parted with £1.5m to take David to Birmingham City where he won a League Cup winners medal in the Blues' famous win over Arsenal at Wembley.