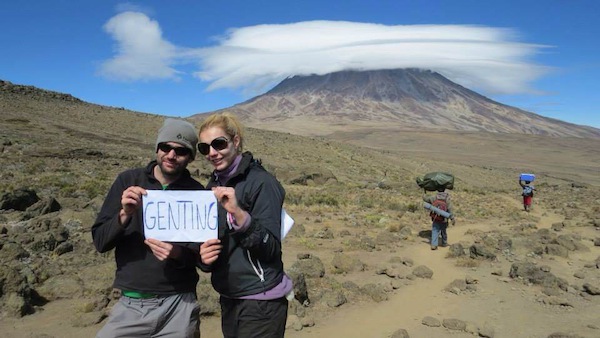 GARY SCALES NEW HEIGHTS FOR CHARITY
Gary Peterson from Fountainpark casino in Edinburgh is celebrating. He scaled the peaks of Kilimanjaro and raised more than £3,500 for charity.
Gary, a croupier at the casino on Dundee Street, teamed up with colleague Alena Silvester-Szabó, receptionist at Crockfords in London to undertake the mammoth test of endurance.
After a gruelling five day climb with its fair share of scary moments, Gary finally made it to the highest point, Uhuru Peak, 19,341 feet above sea level.
Commenting on his achievement Gary said: "It was really tough and took a lot of guts and determination to keep going under such harsh conditions.  We did a lot of preparation beforehand, but nothing really prepares you for pushing your body to its limits! Despite the aches and pains, it was a fantastic experience that will stay with me forever and I'd like to thank the team at Fountainpark and all my family and friends for their fantastic support."
The trek was organised by the Responsible Gambling Trust who aim to raise more than £50,000 to help minimise gambling-related harm in Britain.
Caption: Gary Peterson (left) from Fountainpark casino Edinburgh and Alena Silvester-Szabó from Crockfords in London celebrate their Kilimanjaro success