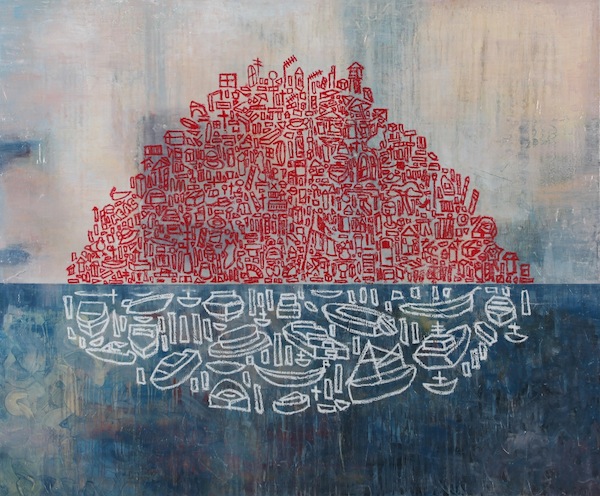 Final year Painting students from Robert Gordon University (RGU) in Aberdeen will showcase their work at an interim exhibition in Edinburgh this week. There is a private view tomorrow from 6 – 9pm and then the exhibition opens on Saturday.
The exhibition, organised by students at Gray's School of Art, will run from 22 February till 1 March 2014 at Gallery 1, St. Margaret's House.
It is the fourth consecutive year that the event has been held, offering the public the chance to view the students' work before their Degree Show in June.
Keith Grant, Head of Painting at Gray's, said that the show not only provides an opportunity for the students to showcase their work, but also for the audience to get a sense of the range of work currently being produced in the department.
He said: "It can be difficult for a student in their Honours year to gain perspective on how their work is progressing, when the only opportunity they have to make a critical judgement takes place within the confines of their studio.
"It is for this reason that the exhibition is so important for the students, coming as it does at such a significant juncture in the academic year."
Painting student Jana Jiraskova (23), who will be displaying her work at the show, said: "This is a transitional stage for us, before our final graduation and emergence into the art world, and is an opportunity to gain relevant skills and experience relating to professional practice."
Although all the students involved in the exhibition specialise in painting, Jana said each individual has a unique method and perspective.
She said: "Included in the collection we have model-making, installation, photography, sculpture and salvaged objects. Each artist plays a different role which contributes to the overall versatility and energy of the show."
The students have organised all aspects of the exhibition themselves and for many of them it will be the first time that they have exhibited a piece of their own work in a gallery situation.
Opening hours are Monday to Friday, 10am to 7pm, and 12pm to 7pm at weekends.
To see more of the work from the students involved in the exhibition go to http://grayspainters.tumblr.com/