Edinburgh University win the Annual Superbowl Varsity match at Meggetland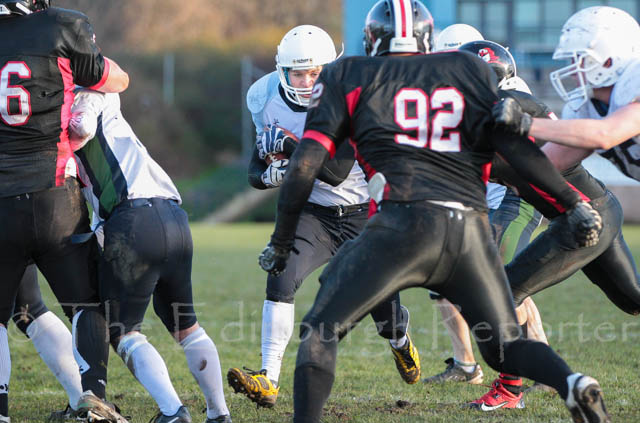 Edinburgh Napier Knights and Edinburgh University Predators met on Superbowl Day for their annual encounter at Meggetland. The teams both play in the British Universities American Football League, but this match is unique in that there is a fine trophy for the winners. Last season the Knghts appeared to be the whipping boys for the rest of the league, but they have come on since then and currently lie two places below the Predators in sixth.
The Knights kicked off the match, but the Predators were unable to advance the necessary 10 yards (yes, YARDS!) to retain possession and were forced to kick. Napier then had their hands on the ball and, largely through the efforts of their quarterback, Rory Deeny and No. 3 Jamie Welsh, gained the 10 and a second set of four downs. They choose the passing route, but, like most of the passing attempts from both sides during the match, success was a bit lacking and a clearing kick upfield was called on.
And that was to be the story for most of the match, with the running backs and quarter backs using the 'shelter' of their respective defences, to gain ground and the passing game not really coming off to any great extent.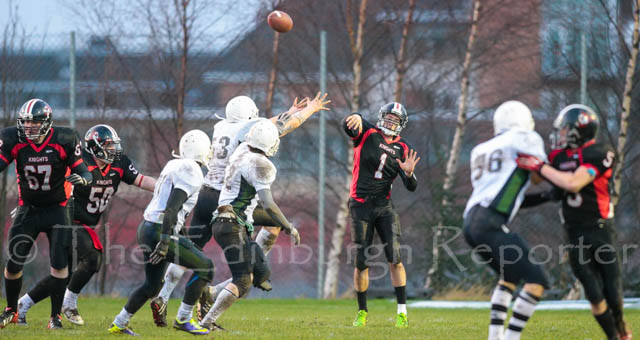 The only score of the match was in the second quarter. The Predators had advanced well into the Knights half through a combination of running from No. 9, Kevin Calvey and penalties by the Knights. Setting up a few yards out their first attempt to cross the line through No. 28 Jack Bayram was stopped short, but another go was successful as Bayram took full advantage of the blocking to cross for the opener. The kick for goal then sailed through to give the Predators a 7-0 lead.
The rest of the match was largely played in the centre of the field, but the Predators did push the Knights back at the start of the fourth quarter and forced them to kick the ball away. Although both sides used their running backs as the main means of advancement, late on in the game, their respective quarterbacks seemed to get their acts together and threw several successful passes. However, the match remained mired in the midfield until the referee blew up for full time with the Predators running out the 7-0 winners.
Images from the match will appear here over the next few days