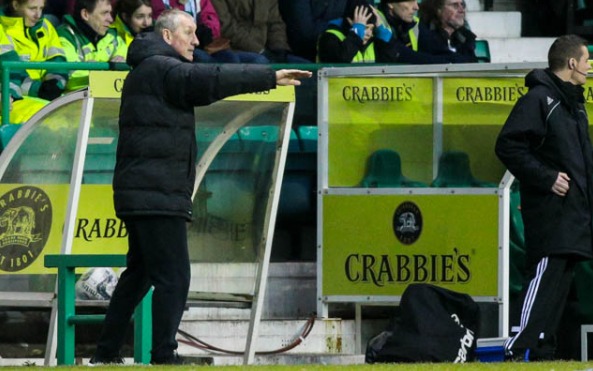 Hibs' boss Terry Butcher walked into the crowded press conference ahead of tomorrow's clash with Celtic, clutching a print out of an article which appeared in the national press last week suggesting that Hibs had been outbid by Aberdeen for the signature of Adam Rooney.
After reading out the article and naming the journalist concerned, who thankfully wasn't present, Butcher gave his view of the content: "Absolute b*llocks, excuse my French. A load of rubbish. I spoke to Adam's agent and he wanted a permanent deal, whereas we are looking more at loan deals. But we never got around to talking figures or anything like that. I said you've another year left on your contract so come to us on loan but I couldn't commit to a long- term contract, but I've worked with him before and I was optimistic he would come to us but the lure of a very lucrative deal was what he wanted so it was never a case of us offering him anything, he just wanted a permanent deal somewhere. We were on a different wavelength."
"Our fans will look at that and think we have made an offer to him which was rejected but that's certainly not the case.
"It is the same with Jason Scotland at Hamilton. His agent phoned me up and straight away I said: 'No, I'm not interested'. All of a sudden teams are "pipping" us to the signing of Jason Scotland! Unfortunately at this time of the season agents are very busy trying to move their clients on, and our fans think: 'Blimey, that's Hibs priced out of a player again.' It's simply not the case. I just wanted to put that forward."
After discussing players who would not be joining Hibs, Butcher confided that he was close to bringing a new face to the club but understandably refused to name the target.
He continued: "We are working hard on a signing and it's pretty close but it's out of our hand at the moment as we are waiting on another club. If we can get him in time he would be available for Sunday. It's not as if we've been doing nothing, we've been working hard and we will continue to work hard and we will get one or two in.
"Normally I don't do any transfer business in January because I've never had any money at Caley Thistle. If we do, then it is normally for free. It has been frustrating because we've gone for good targets and good players – Jamie Murphy, for example – and the fates have been against us. It's been frustrating.  We still want to get players in who are better than what we've got and have the quality to bring to Hibs."
After last week's poor first half which saw Hibs leave the field three goals down, Butcher insists that the players are determined to give a better account of themselves on Sunday against Celtic. He continued: "We've got over last week and the training has been excellent. The boys are fired up and they want to get out there and play well. The fact you are up against the Champions will only make you more focused on what you want to do.
"We're not going into the game in the best condition in terms of injuries and suspension, but we'll put out a team that will give everything to the Hibernian cause and have a real go. Celtic are there to be shot down. They have been tremendous this season and very consistent, which is what Neil [Lennon] wanted from the start, and we are up against a slick machine which functions very well. Hopefully we can throw a spanner in there somewhere."
When asked whether he will consider signing players on a pre contract he replied: "That is an avenue that we would consider and we are looking at doing just that. I'm not telling you what positions or what clubs but we certainly would do that here. It's getting more necessary to do that, to try and tie players up before the summer because you don't want the rush to get players because everyone else wants players. The only advantage of the January transfer window is that you get a chance to see players in action during that window  whereas in June  July you don't get a chance to see players and you are going on memory and what people have said. That's the only plus point about the January window."
With a number of Hibs' players out of contract in the summer, Butcher was asked whether any talks were ongoing with a view to extending current deals but he insisted that performances between now and the end of the season will determine who will be kept at the club. He replied: "No. and I won't be doing that for some time because I'm looking at players and what they have given me and the club so they are playing for their contract but as a player you are playing for your contract every time you play, either here or somewhere else so we won't be doing that till later on.
With regard to the players who have been told that they are no longer in the manager's plans, Butcher refused to be drawn on whether they would leave at the end of the month or continue at the club. He said: "Watch this space, maybe they will, maybe they won't, we'll see, but a few of these players are injured anyway."
Photo by John Preece
http://www.photoboxgallery.com/jlp-photography