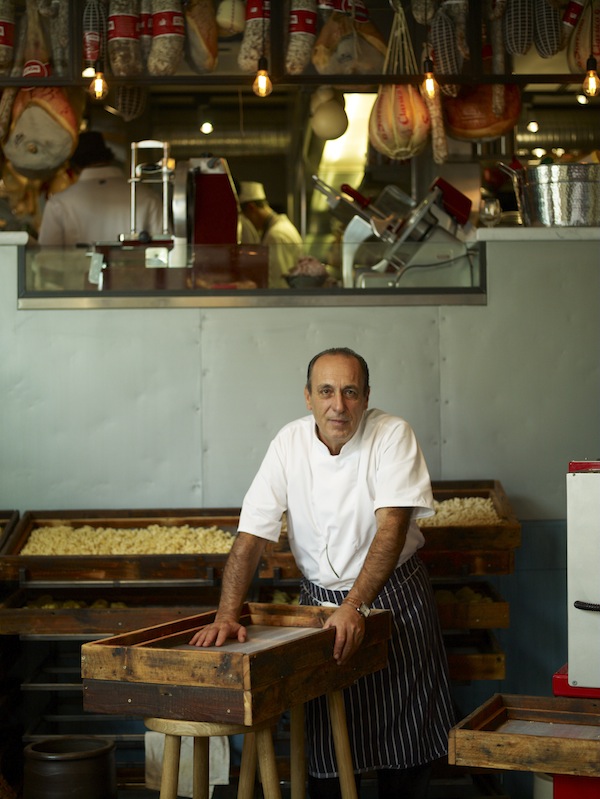 I was slightly nervous! About to meet up with Gennaro Contaldo, one half of "The Two Greedy Italians".  Having spent my honeymoon back in the nineties in Sorrento and my 10th wedding Anniversary in Poisitano, I am a big fan of Italy.
On this evening, I was in the heart of my home city where Jamie's Restaurant dovetails with the recently refurbished Assembly Rooms.  The architecture is like no other restaurant in the chain.
I had no need to worry; Gennaro is an absolute gentleman.  Jamie Oliver's right hand man asked if I would like to join him in the kitchen and I didn't need asking twice!  On giving me my apron and telling me to get my shirt sleeves pulled up he asked me what my favourite Italian dish was.  A difficult question but i mentioned that I had a penchant for fish.
Quick as a flash he suggested "Trotta all' Acqua Pazza" or Trout in Crazy Water. Who was I to argue? Standing in the professional  kitchen, I couldn't quite believe the heat.  Genarro got to work.  After sprinkling a generous helping of Italian salt on a sizeable piece of Scottish trout, he put this into a pan with some bubbling olive oil.  To this he added garlic, cherry tomatoes, capers, parsley and some white wine.  The pan was covered to allow the fish to steam in the "crazy" juices.  With a minute to go, some local mussels were added.  Wild rocket with some lemon juice and his favourite Italian salt provided the garnish and some colour to the plate.  Once the lid was removed and the master convinced that the fish was cooked, the plate was complete.  Accompanied by a chilled glass of Italian white wine, the dish was delightful, with all the flavours infusing beautifully.
I was then shown round the deli/bar area where diners can enjoy the freshly cut Italian meat and cheese specialities such as salami with fennel seeds, well matured prosciutto, buffalo mozzarella and pecorino with some amazing chilli jam.  This set up is unique to the Edinburgh premises.
Jamies is a well oiled machine, and already Gennaro and Jamie are working on their spring menu, looking for inspiration from his Italian roots.  Chefs are encouraged to get involved by creating "local specials", and each day "early sittings" are held by the team in order to gather feedback.
My visit concluded with a chilled Lemoncello from the Amalfi coast and a strong black Italian coffee.
This evening was certainly a true taste of Italy.
Jamie's Italian
The Assembly Rooms 54 George Street EH2 2LR
T 0131 202 5452