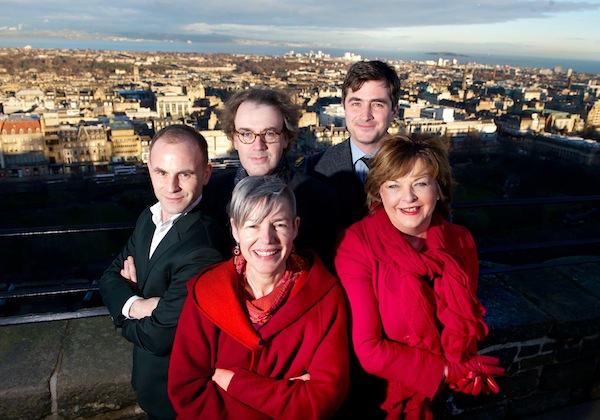 A trilogy of plays about James I, II and III of Scotland was unveiled at Edinburgh Castle this morning, and the plays are promised to be a vividly imagined and mysteriously playful version of Scottish history and its relationship with its nearest neighbour.
Pictured are (centre, sitting) Laurie Sansom – National Theatre of Scotland artistic director and chief executive (who is directing the series) and Rona Munro (playright who wrote the series), with (on left) Director of Artistic Administration at the National Theatre of Great Britain, Robin Hawkes.
Fiona Hyslop MSP, Cabinet Secretary for Culture and External Affairs, represented The Scottish Government who are sponsoring the plays through their Expo Fund. and Edinburgh International Festival director Sir Jonathan Mills (right).
The series will be shown at the Edinburgh International Festival in August 2014 and the Olivier Theatre in London from September to October 2014 (with the National Theatre of Great Britain).
Photos courtesy of
Colin Hattersley Photography
Public Relations  –  Press  –  Corporate  –  Charities  –  Arts & Entertainment
07974 957 388
colinhattersley@btinternet.com
www.colinhattersley.com