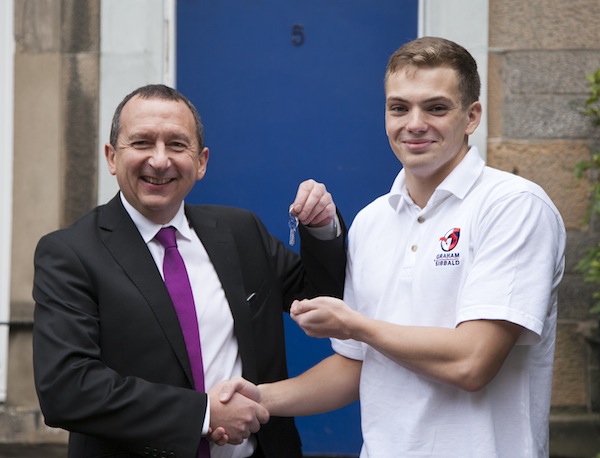 Swimmer Craig Benson sponsored by Graham + Sibbald
Graham + Sibbald Rising Star grant for Commonwealth Games young sportsman
Scottish property company helps swimmer with vital accommodation requirements
Scottish surveying firm Graham + Sibbald today handed young swimmer, Craig Benson, the keys to his new flat in Edinburgh.
Craig has been commuting from Livingston and this grant from Graham + Sibbald will cover the rental on his accommodation as he studies at Edinburgh University and trains at the Commonwealth Pool in the run up to the 2014 Glasgow Games.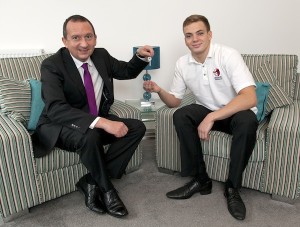 Les McAndrew, Managing Partner at Graham + Sibbald, said:- "We hope our Rising Star sponsorship will support Craig during this crucial period of his development and help him to fulfil his dreams.  This is a great fit for our Scottish firm and here's hoping that some of our staff and possibly clients will be poolside at next year's Commonwealth Games encouraging Craig on to Gold for Scotland.
"We hope that our Rising Star grant will be able to help more young Scottish athletes to succeed and ultimately promote sporting achievements in Scotland."
Craig Benson commented on the support: "My new flat is going to make all the difference to my training schedule and I am grateful to Graham + Sibbald.  I had been travelling in from Livingston each day, sometimes twice a day, to train at the Commonwealth Pool and the distance was becoming a strain.  The journey used to take me at least an hour and now it takes me only seven minutes from leaving my flat to being on poolside.  Now that I have a flat in the capital, I can really focus on the year ahead and hope to do my very best for Scotland at the Games next year."