Festival Photographer stages exhibition – Edinburgh Airport has busiest six months – RLS day tickets still available – Fresh Air gets bronze! – Book Week Scotland
The Festival Photographer Stuart Armitt is staging an exhibition of a minute fragment of the photos which he took this year during August. You can see his work in the foyer of The Hub on Castlehill. The Edinburgh Reporter met Stuart last night to talk to him about the project.
Read more here.
***
More passengers travelled through Edinburgh Airport last month than any other October on record, topping off the busiest six months ever for the airport.
A total of 917,437 people passed through Edinburgh Airport last month, a rise of 8.7% on October 2012. Domestic figures were up by 4.6% with 428,064 passengers and international also increased with 489,373 people travelling through, an increase of over 11%.
Gordon Dewar, Chief Executive of Edinburgh Airport, said:- "Since May, we've welcomed almost six million passengers through our doors. Edinburgh and Scotland continue to remain places where people want to visit for work or leisure and we're delighted to play our part as one of the main gateways to our country.
"We can only do this with hard work and collaboration. This is a team game and it's more important than ever that we work together to make sure every visitor to Edinburgh has the best experience possible.
"Having recently announced a number of fantastic new routes for next year and with work now underway on our EAST Expansion project, we're excited for the future and look forward to entering a new phase for the airport."
***
***
13th November launches RLS Day and a packed day of events which celebrates the author of Treasure Island, Jeckyll and Hyde and Kidnapped.
Catch, 'The Lost Loves of Louis' at his boyhood home of Heriot Row – Book tickets here.
James Naughtie and Louise Welsh in an 'Evening with Robert Louis Stevenson' – Tickets available here.
All this information comes from the lovely people running 'Previously' Scotland's History Festival who also point out that they are a book festival!  "With over 60 author and language events woven into our programme, 'Previously…' stands as a decent book festival in its own right. Partners include City of Edinburgh Council, Central Library, Blackwell Books, Luath Press, Birlinn Books, The Saltire Society, The Writers Museum and The ScotlandsPeople Centre. Check out the full programme at http://www.historyfest.co.uk"
***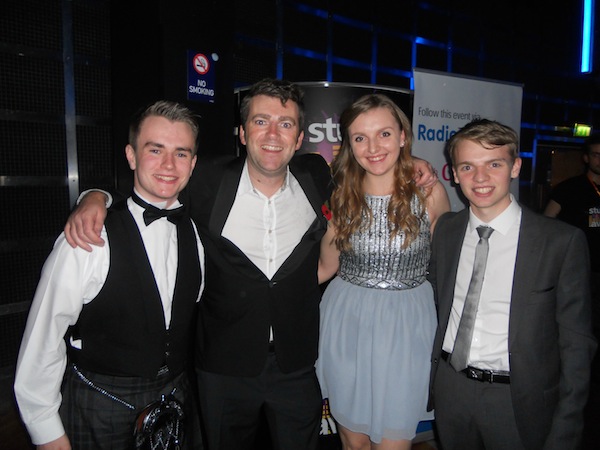 Students from Edinburgh's Student Radio Station, Freshair.org.uk, have been recognised in one of radio's most prestigious award events.
Supported by BBC Radio 1 and Global Radio, the Student Radio Awards recognise the biggest achievements in Student Radio over the past year and have become a firm fixture in the radio industry calendar.
This year the ceremony was hosted by Radio 1's Greg James and Capital FM's Dave Berry, while stars of the radio industry looked on. JLS member Marvin Humes and Radio 1 presenters Scott Mills and Jameela Jamil were among those who presented awards on the night.
Fresh Air's News Team was nominated for Edinburgh Question Time, in the Best Event or Outside Broadcast category. The live broadcast was the only election hustings prior to the Edinburgh University Student Association election in March 2013.
EdQT saw questions from a live studio audience and listeners at home which led to #EdQt trending on Twitter across the UK.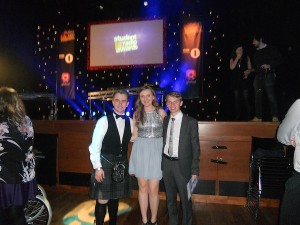 Speaking following the awards ceremony Calum Macdonald, who presented the outside broadcast and is Head of News at the station said:-"It's absolutely brilliant to have won a bronze award for Edinburgh Question Time. It was a great programme – we had a live audience of 150 to grill candidates for our Students' Association elections. As well as that, we had such high interaction on Twitter that we trended in the UK for the duration of the programme.
The News Team worked tirelessly to put the programme on and to give students the chance to ask questions that were important to them. It was a privilege to present the programme and it's an honour to be placed third in such a respected awards ceremony."
Calum was also nominated in the same category for his broadcast "Live In My Lounge" which saw him present an hour special from his home in the Isle of Lewis. The programme featured music from local musician Colin Mcleod who has appeared in the same line up as Bruce Springsteen.
This year's award ceremony, which took place in the Indig02 in London, received over 600 entries across the thirteen categories. The nominations were judged by processionals from across BBC and commercial radio stations including BBC Radio 5Live and Heart FM.
Previous winners of the awards have included Greg James who now presents the BBC Radio 1 drive time programme.
***
Popular Scottish author and illustrator Mairi Hedderwick is set to be the star of a fantastic free event on Thursday 28 November, which will be broadcast live over the internet to tens of thousands of pupils across the world as part of Book Week Scotland 2013.
Young fans of Mairi's Katie Morag series of books are invited to listen to Mairi telling her favourite Katie Morag story, giving an exclusive insight into what it is like to see Katie Morag being brought to life for television and explaining how the landscape inspires her writing.
The free Authors Live event, run by Scottish Book Trust and BBC Scotland Learning, is suitable for children aged 4-7 and will be streamed live from the BBC Commonwealth Class website to schools across the world on Thursday 28 November at 11am. Mairi will also take part in an online Q and A session on the website after the event.  This series of Authors Live events is funded by Creative Scotland and is part of The Glasgow 2014 Cultural Programme. 
A graduate of Edinburgh College of Art, Mairi Hedderwick was a teacher before she started illustrating children's books, with her most popular character, Katie Morag, created in 1984. Katie Morag's home on the fictional Hebridean island of Struay is not a million sea miles away from her author's life-long association with the Isle of Coll.
Mairi has also written and illustrated many other books for children and adults, all with the backdrop of the Highlands and Islands. She was awarded an Honorary Degree from Stirling University in 2003 in recognition of her outstanding contribution to writing and illustration in Scotland, especially for children.
Commenting on the upcoming event, Mairi said:-"This is a great thing that Scottish Book Trust is doing and I am looking forward to sharing Katie Morag stories with children all over the country and further afield.  She is a great wee ambassador for the Highlands and Islands of Scotland."
Jasmine Fassl, Head of Schools at Scottish Book Trust, said:-"With her affinity for the Scottish islands, sea and landscapes, Katie Morag is a much-loved Scottish ambassador and her creator Mairi Hedderwick is a literary treasure, so it's fitting that this event is a central pillar of Scotland's national celebration of books and reading. "
The award-winning Authors Live programme is an exclusive series of authors' events streamed live over the internet to provide young people, parents and teachers with the chance to get up close and personal with some of the world's leading children's writers. Run by BBC Scotland Learning and Scottish Book Trust, Scotland's leading agency for the promotion of literature, reading and writing, the programme was the first of its kind in the UK. Anyone can sign up to watch and it is completely free.
Over 800,000 people from 153 countries across the world have tuned in to watch the Authors Live events. The programme began in March 2010 with poet Michael Rosen, followed by author of The Gruffalo and Children's Laureate, Julia Donaldson. The programme has also seen events from world class authors Jacqueline Wilson, Michael Morpurgo, Charlie Higson and Francesca Simon.
All the events are available to watch again at www.bbc.co.uk/authorslive and    http://www.scottishbooktrust.com.